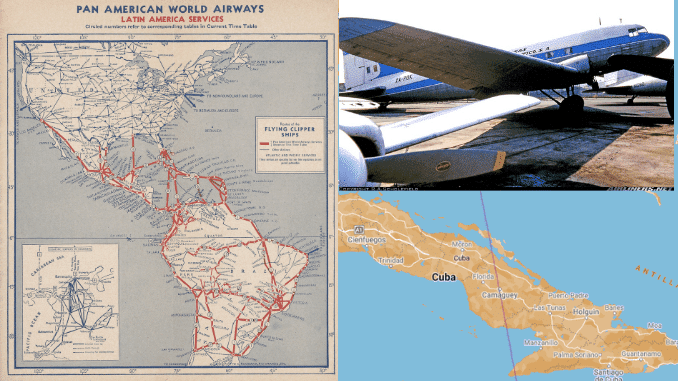 As Nick embarked on his journey towards Japan, escorting The Log Book to its next appointment, it was via a detour to Jamaica. The itinerary took them from St Lucia to Montego Bay via Fort Lauderdale.
On his return leg to Fort Lauderdale from Montego Bay his JetBlue flight JBU2126 departed and intercepted the north-west bound high-altitude airway UL417. While the flight passed directly over the Cuban city of Camagüey at 36 000 ft he, and The Log Book, came close crossing paths with a journey conducted by his father in 1944 – most likely while in possession of the very same Log Book.
What can be conclusively determined from The Log Book itself is that Cyril Devaux earned his wings at No 3 SFTS Calgary in Canada on 27 October 1944. His next entry in the flight log is a flight conducted at No. 6 EFTS Sywell in UK on 4 April 1945 attending a "Pre. AFU" course.
The four flights conducted at Sywell appear to a proficiency check before attending No. 9 Advanced Flying Unit (AFU) Tealing for further training. After taking three flights with an instructor his fourth is a 35 min solo in Tiger Moth 9151, an aircraft that incredibly is still airworthy.
Between earning his wings in Canada and the initial training flights in UK there is a large gap that we know very little about. There is certainty within the Devaux family, supported both by recollections and photographs, that Cyril visited home sometime during his service.
From recent findings in records there is now no doubt that this occurred late 1944.
Pan American Airways
It is perhaps easy to assume that international civil aviation simply ceased operations following the outbreak of WWII. In fact, reality is completely the opposite as Pan American Airways (PanAm) flew over 90 million miles worldwide in support of military operations during WWII.
Throughout the war the Pan Am networked spanned globally as well as maintained regular services domestically. Their service to Latin America becomes of particular interest when looking into Cyril Devaux's journey.
In the Entry Declaration Of Aircraft Commander, a document submitted to US Immigration Customs, Cyril Devaux is listed as a passenger. The document is filed for a 14 November 1944 departure out of Miami by Mr Richard J. Hayes, commander of Pan Am aircraft NC-33609.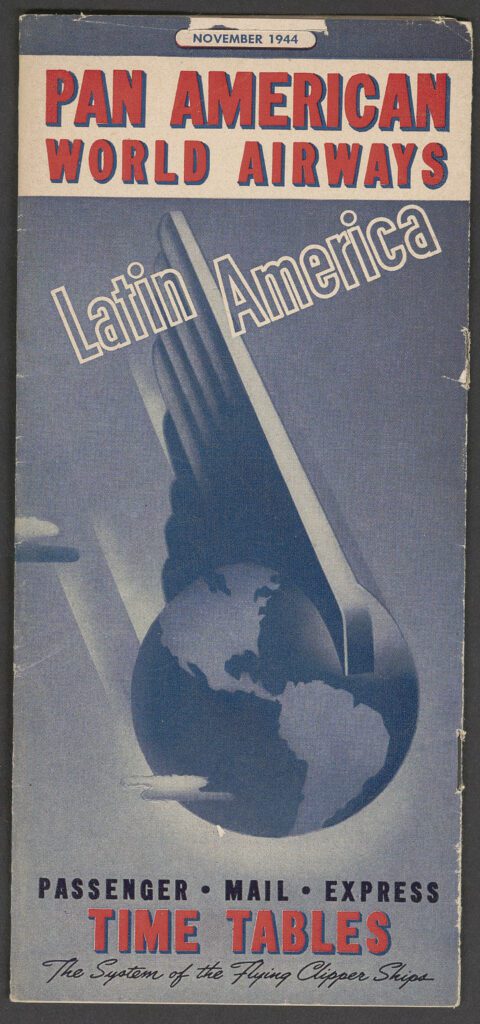 Listed as one of the sixteen-some passengers of predominately British nationality, he is noted as a 24-year-old Male with a last entry to US on 11 November 1944 in St Albans, Vermont.
To clarify and add context, having been commissioned in Calgary on 27 October he is transferred from 3 SFTS Calgary to No. 31 Personnel Depot in Moncton, NB on 3 November awaiting new orders. If he physically was in Moncton to receive them, or if he journeyed directly towards US from western Canada, is unknown.
In any case, Devaux enters the US in St Albans, Vermont on Saturday 11th November 1944, how his onward journey to Miami is currently unknown.

To Port of Spain with flight 203
Per the Pan American World Airways timetable for Latin America for November 1944 there is almost a daily departure of a five-day long flight with overnight stops from Miami to Buenos Aires in Argentina. All in all, the journey will be split into 22 legs and follow the east coast of south America before heading inland towards the Argentinian capital.
The first legs of the flight operated from Pan Am. Field in Miami is what Cyril Devaux utilized. Departing at 5:50 am the flight makes six stops along the way before finishing for the day with a last leg from Beane Fld. at St Lucia to Port of Spain, Trinidad arriving at Piarco field around 8:35 pm.
With roots in both locations, it is unclear if Devaux disembarked in St Luicia or Trinidad.
NC-33609 and the Commander Richard J. Hays
The aircraft to operate the flight is, as best as can be deciphered on Declaration of Aircraft Commander sheet, as "American 'Plane NC-33609" owned by Pan American Airways Inc.
NC-33609 was a Douglas DC-3A-228F with c/n 4100 built in 1941. The aircraft was later transferred in 1946 to Cubana and flew as CU-P38, re registered as CU-T38 and eventually ended her days at the scrapper after a few years with Aerolinas del Pacifico as XA-POK.
The below picture is the only picture of the aircraft found, taken in Long Beach California in 1971, probably very close to her untimely passing.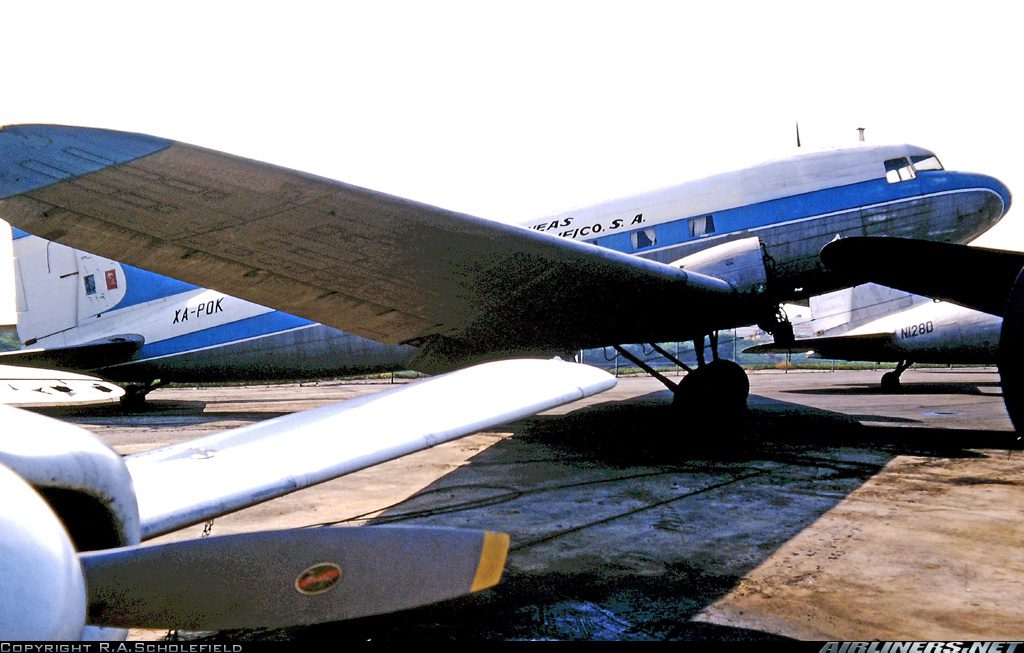 Commander of the flight is Richard J Hays, a 34-year-old from Oklahoma. In the information given in the 1940 draft he worked for Spartan Aircraft Company, was a 6ft and 195 lbs red head of ruddy complexion with the tip of the little finger on his right hand missing.
The father of two daughters, 11-year-old Lucile and Carolyn who is born the same year, will continue to fly for Pan Am for some time.
Linking up with history
On 14 November 1944 Commander Hays is however to pilot his DC-3 with Cyril Devaux on board. Departing Miami early in the morning they set course for the destination on the first leg of today's journey which is in Cuba.
It is here where Nick almost crosses paths with his father, passing directly over Camaguey city on his way to Fort Lauderdale he passes the same area that was the first destination of NC-33609 almost 78 years earlier.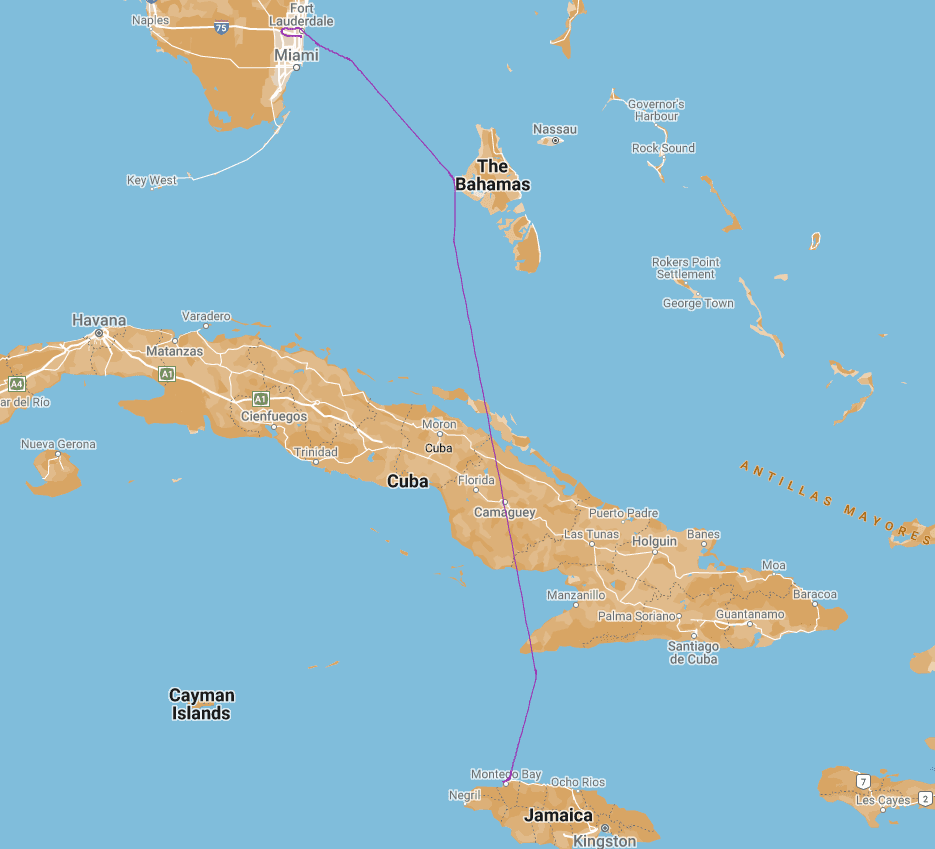 ---
Per the Pan Am timetable the flight would arrive Camaguey Air Base at around 8:00 am for a short 15 min stop before departing onwards to Port Au Prince, Haiti. The occasion will perhaps not qualify as a defining "anchor moment", but close enough to mention and take note of.
The enchanted journey of The Log Book continues while revealing its own history bit by bit for those who seeks it.
Last Updated on 13 September 2023 by Lars McKie