Among all stories and witness accounts told by the individual signers of TLBP, all incredible in their own ways, we sometimes come across some that are well documented. Such is the case with Senior Aviation Ordnanceman Ervin "Judge" Wendt who honored The Log Book with his signature in August 2019.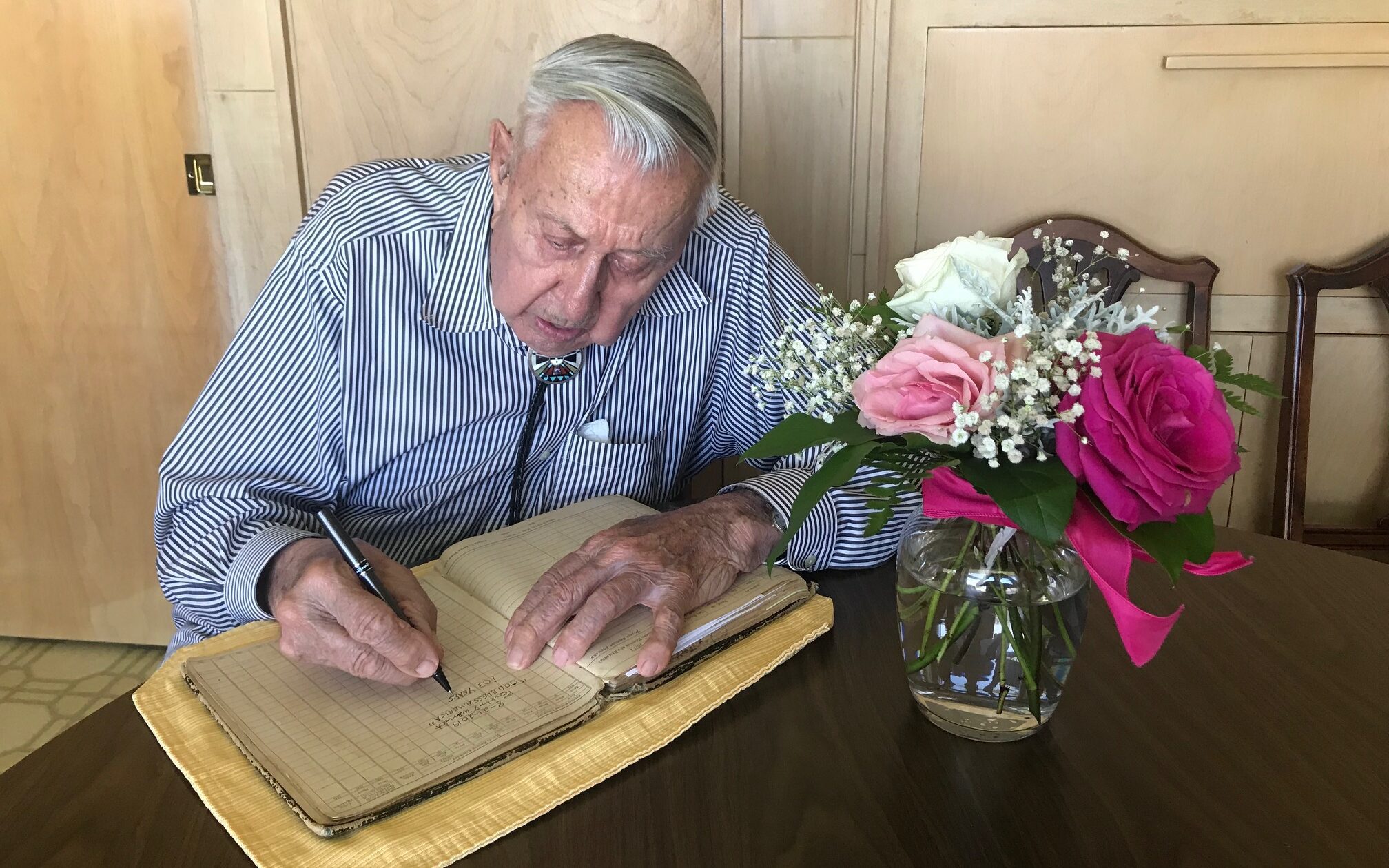 Mr Wendts' grandson Mark Ferguson not only facilitated his grandfathers signature of The Log Book but also provided us with a comprehensive written outline of his grandfathers service which in large parts is the base for the below write up.
Enlistment
Ervin "Judge" Wendt was born May 6th, 1916 in Atlantic, Iowa and entered the Civilian Conservation Corps (CCC) in 1934 at the age of 18 and while still in the CCC joined the Iowa National Guards as a PFC in 1935. Duties in the Howitzer Company 168th Infantry was being assigned to guard Franklin D. Roosevelt during his presidential tour, as he campaigned off the back of the train in Red Oak, Iowa. This ignited Ervin's love of his country and soon he enlisted on May 11th, 1937 embarking on a life long service with the US Navy serving in World War II and Korean war.
By 1938 Wendt attained the rank of Aviation Ordnanceman 3rd Class (AOM3) in Norfolk, Virginia. He was soon assigned to the Carl L Marden MKXV bombsight maintenance course based in New York to learn functionality of the Grumman TBF Avenger. His training here was the foundation to train bombardiers, enlisted men, ready men and young pilots to ready them for participation in the war. His boss was John Waldron who at the time was Naval Inspector of Ordinance and who later became LCDR of Torpedo Squadron 8 based on USS Hornet (CV-8).
Torpedo Squadron Eight (VT-8)
Mr Wendt joined Torpedo Squadron Eight (VT-8) in September 1941 as an Air Bomber Crewman and flew with CO Lt Harold "Swede" Larsen being the first squadron to equipped with the new TBF-1 Avenger.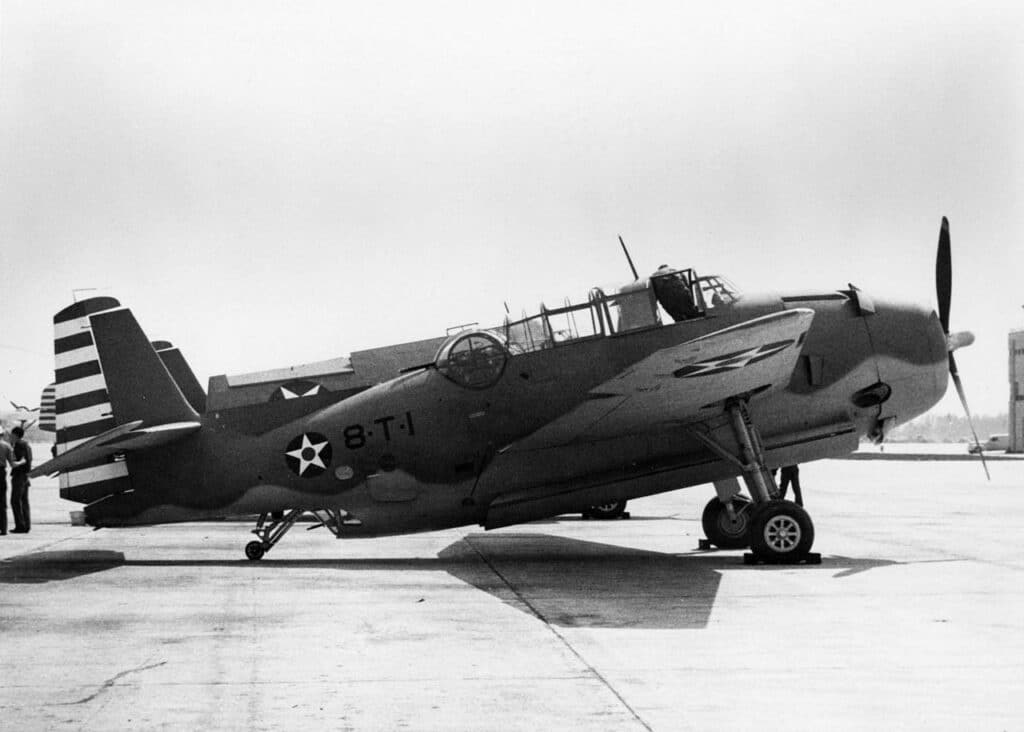 On June 3rd, 1942 after arriving to Pearl Harbor with the new TBF-1 Avengers, only a day after USS Hornet (CV-8) sailed towards Midway, Admiral Nimitz ordered CO Lt H Larsen to ready 6 planes for Midway island. Time was of the essence and when asked for volunteers Mr Wendt stepped forward only to be ordered to step down in the very last moment as he was needed to stay and train others…he was asked to pick his best man to go in his place. It was the hardest thing he has ever had because "survival" was doubtful.
Six of the squadron's Avengers were flown to Midway under the command of Lieutenant Langdon K. Fieberling to participate in the battle. These planes were the first Navy aircraft to attack the Japanese fleet that day. They attacked without fighter cover, and five of the Avengers were shot down, with only Ensign Albert K. Earnest and Radioman 2nd Class Harry Ferrier surviving, on a badly shot-up plane with damaged controls and landing gear, and a dead rear-gunner.
Cactus Airforce
Mr Wendt continued as a rear gunner on Grumman TBF Avenger's with VT-8 off USS Saratoga (CV-3) during the initial stages of the Guadalcanal Campaign. In the Battle of the Easter Solomons, where VT-8 assisted in the sinking of Japanese light carrier Ryūjō, the USS Saratoga (CV-3) was torpedoed by a Japanese submarine. The squadron was then assigned to Henderson Field on Guadalcanal where VT-8 served as part of the Cactus Air Force.
On Guadalcanal Mr Wendt flew as rear gunner with the commanding officer of VT-8; Lt Harold "Swede" Larsen in a TBF Avenger that barely could be made serviceable by scavenging parts from other wrecks. The plane was not considered to be safe to fly with most of its instruments inoperable and one wing hanging lower than the other.
On one afternoon in October 1942 Lt Swede Larsen took off from Fighter 1 strip with Wendt as rear gunner looking for targets of opportunity – they did not have to fly far as one minute's flying time in any direction took the Avenger over Japanese positions. Wendt knew they had found a good place to bomb when antiaircraft fire began putting new holes in the Avengers wing.
On a mission October 13th 1942, the day after bombing Japanese artillery positions near the Matanikau, Lt Larsen and Wendt came back for a second pass after dropping 2 bombs the antiaircraft fire was much more accurate. The plane shuddered as it took hits and when the second salvo was released there was a massive secondary explosion where turret gunner Wendt suffered serious injury to his arm from shrapnel. Lt Larsen returned to the airfield where Wendt could be taken to the hospital tent – Mr Wendt received a Purple Heart for his injury.
Lifelong service
Recovering from his injuries he was in 1943 assigned as Chief Instructor of the Air Bomber School, in North Island, San Diego then onto serving with Rescue Squadron Two (VH-2) stationed in Hawaii and Saipan 1944. With the war ending in August 1945 Chief Wendt continued his service, he was stationed onboard USS Curtis (AV-4) operating out of Atsugi and Iwakuni Japan during the Korean war.
Mr Wendt's grandson, Mark Ferguson, provides further information to the incredible service of Wendt.
After the Korean war, his role transitioned into the west coast recruitment of enlisted men to re-enlist, the evaluation of new officers to become Junior Communication Officers and outstanding Junior Communication Officers to become Officers. He said he did this for 4 years till he retired (1964 – 1967).
Retiring from the Navy in 1967 would not be the end of dedicated service to his country for Mr Wendt. He continued to serve another 11 years with the Civil Service / Weapons Department mainly supporting the armed forces role in the Vietnam war. After 44 years of service through 3 wars Ervin Wendt eventually retires in 1978 "for a second time" as he puts it himself.
Mark Ferguson says that his grandfather is always up for a chat providing perspective to the "why & when" the armed forces had to "rise and strategize" to meet adversity. In recent correspondence he ends his e-mail with the closing words
Every talk, I seem to discover a new "gold nugget" from his mine of knowledge…
One can only agree standing humble and grateful since these nuggets of wisdom come from incredible service and sacrifice endured through war.