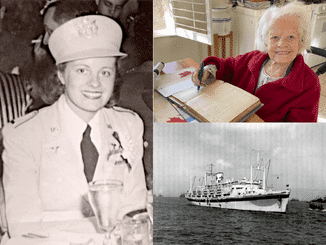 Doris Howard performed the duties of a 1st and 2nd Lieutenant in the US Army Nurse Corps during WWII. On April 28, 1945, the hospital ship on which she served was struck by a Kamikaze off Okinawa.
The USS Comfort (AH-6) was one of three hospital ships built, commanded and crewed by the Navy for the Army. Having evacuated wounded from Okinawa to Guam, the ship returned and again stood by off Okinawa on 23 April 1945. Just a few days later a Japanese suicide plane crashed through three decks exploding in the surgery unit, instantly killing six nurses, four surgeons and seven patients.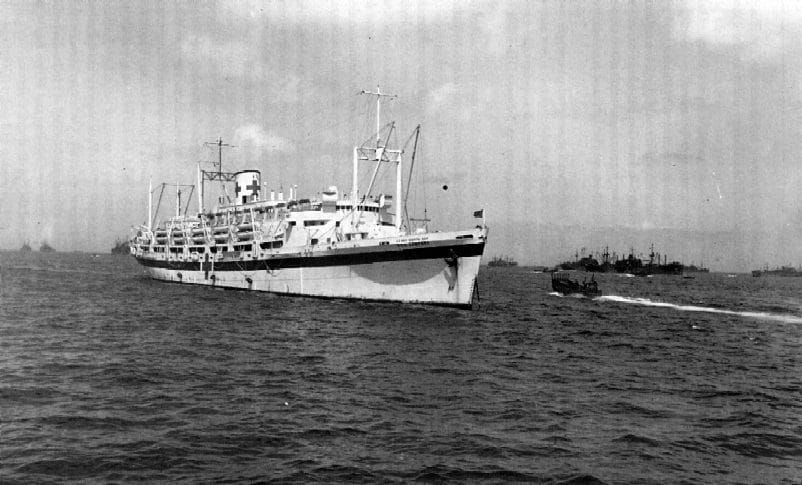 Inside the post-surgical ward, Howard had begun her 12 hour shift, treating some of the 517 patients on board. As a seasoned crew member, she was accustomed to hearing enemy planes roar overhead and the motions of the ship. But this time she felt a jolt unlike any before. Moments later, gasoline from the plane ignited a massive explosion sending Howard crashing into a bulkhead over 6 feet away. The call to abandon ship was given over the ship's PA system but Howard had lost her hearing, initially she was completely deaf for twenty-four hours. Gradually her hearing partially returned but she suffered permanent inner ear and spinal damage.
I was blown right off my feet. I only weighed 85 pounds. I was thrown about two yards and landed with my entire spine against the bulkhead and cracked my head hard. I struggled to get up.

Doris Howard from History.com interview[2]

https://www.history.com/news/hospital-ship-uss-comfort-world-war-ii-kamikaze-attack
Howard's medical wardman, Sgt. Ashworth, found his way to her: "Are you all right?" he mouthed.
The men were all talking from their bunks and pointing to the spot she landed. Ashworth spoke some more, but she shook her head. Finally he mouthed slowly, "Abandon ship!" The Comfort was taking on water.
In spite of her injuries Howard refused to abandon her post or the servicemen in her care. One of her patients required oxygen to breathe after losing a good part of his face in a previous battle. Had the large tank providing his oxygen been damaged by the blast, their ward would have been no more. Well aware there were insufficient lifeboats, she knew he could hear the abandon ship signal. Communicating exclusively through locked eyes, they both knew they would go down with the ship together.
She was determined to get those who could out to the lifeboats, then remain with the men who would not make it. She prepared herself to go down with the ship and continued to make her rounds checking in with hand signals, each of the wounded in her surgical recovery ward. As rescue teams searched the wreckage and doused the fires, the abandon ship order was rescinded.
About 0200 I walked with Sgt. Ashworth to the door of my ward and found that there was nothing forward but a gaping hole. The elevator was gone, the surgery was gone as well as the alleyway. It was impossible to go forward.

Doris Howard neé Gardner from www.dorishoward.vet[3]

https://www.dorishoward.vet/USS-Comfort-1945.htm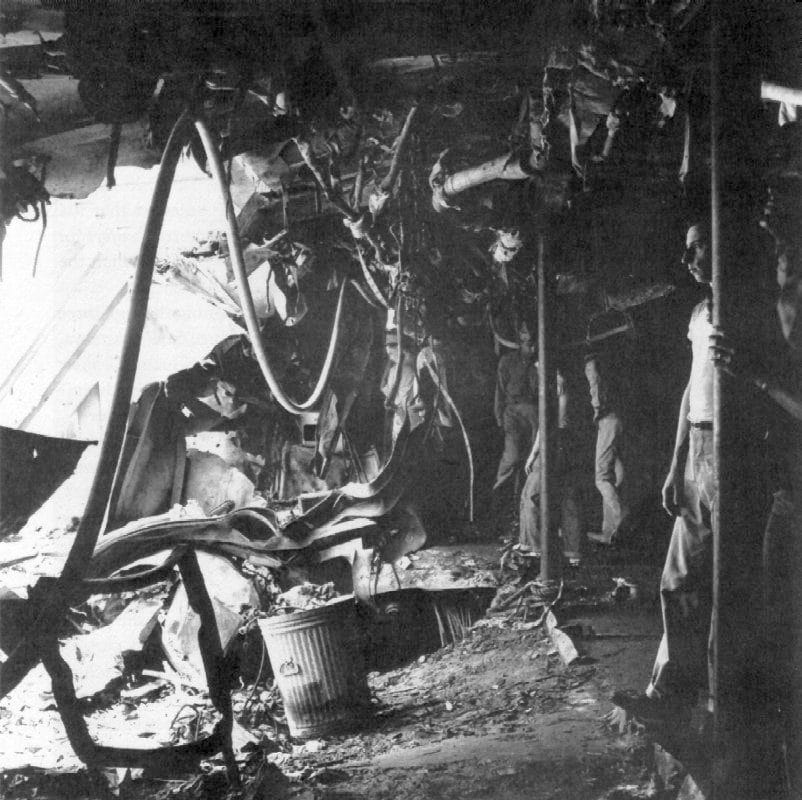 The U.S Navy reported casualties among the 700 passengers included 30 deaths, 48 injuries and one service member missing in action.
The below photo is taken from Doris Howard's website www.dorishoward.vet/. Howard, second from right, and 5 other nurses view part of the the suicide plane's engine brought up on the Comfort's deck.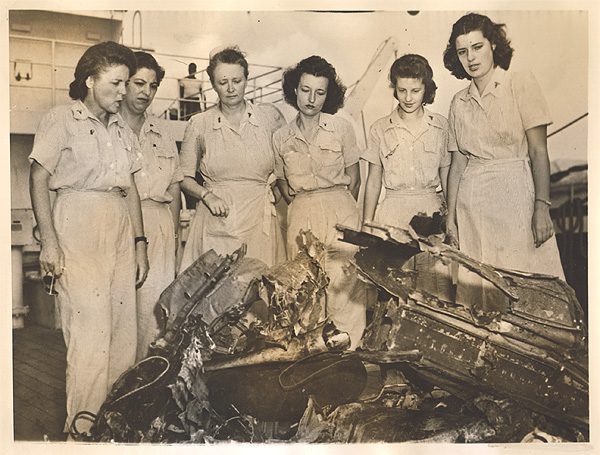 The image comes with the following description from her website.
A photographer had requested a photo of the kamikaze engine with nurses. Doris had been on duty for 16 hours.

Gardner's hearing had not yet been restored and she was still dazed from being thrown by the blast. She had been busy working with the wounded when a corpsman signaled for her to go up on deck and have her picture taken. She refused and was ordered.

The photographer asked them to smile, then asked for a somber picture, but Gardner had not heard the latter instruction. They were all glad to be dismissed and to return to those in need.
---
Between her busy schedule and Covid 19, it took abut 2 years to catch up with Howard after discovering her amazing service record. Grateful does not begin to describe the thrill of having her endorsement of TLBP!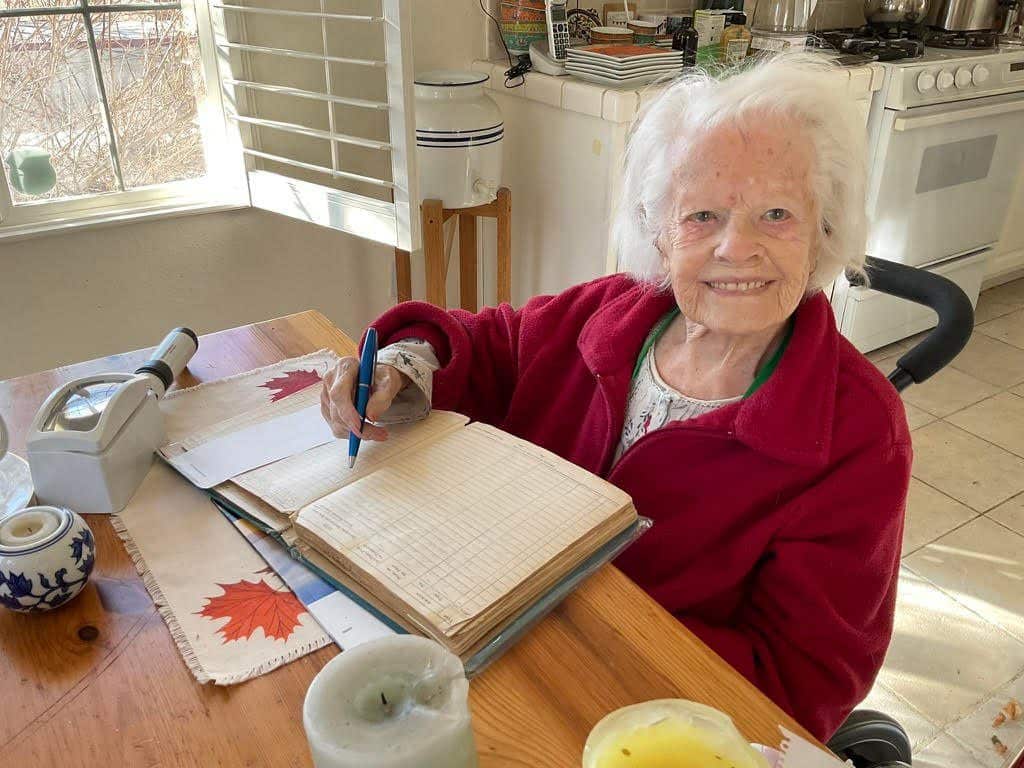 Graciously facilitated by her son Bill, she found the time to fit us in between doing extended video interviews for a VA Benefits reassessment and dealing with a host of other matters including the heartbreaking loss of their wonderful dog, Brooks – The Happiest Dog in the World!
On February 9th, 2022 their beloved 14 year old adoptee passed away peacefully. Bill Howard quotes his mother , who has spent considerable time in hospital wards under wartime conditions, to have said: "I have seen the moment of death so many times. I have never seen it so peaceful."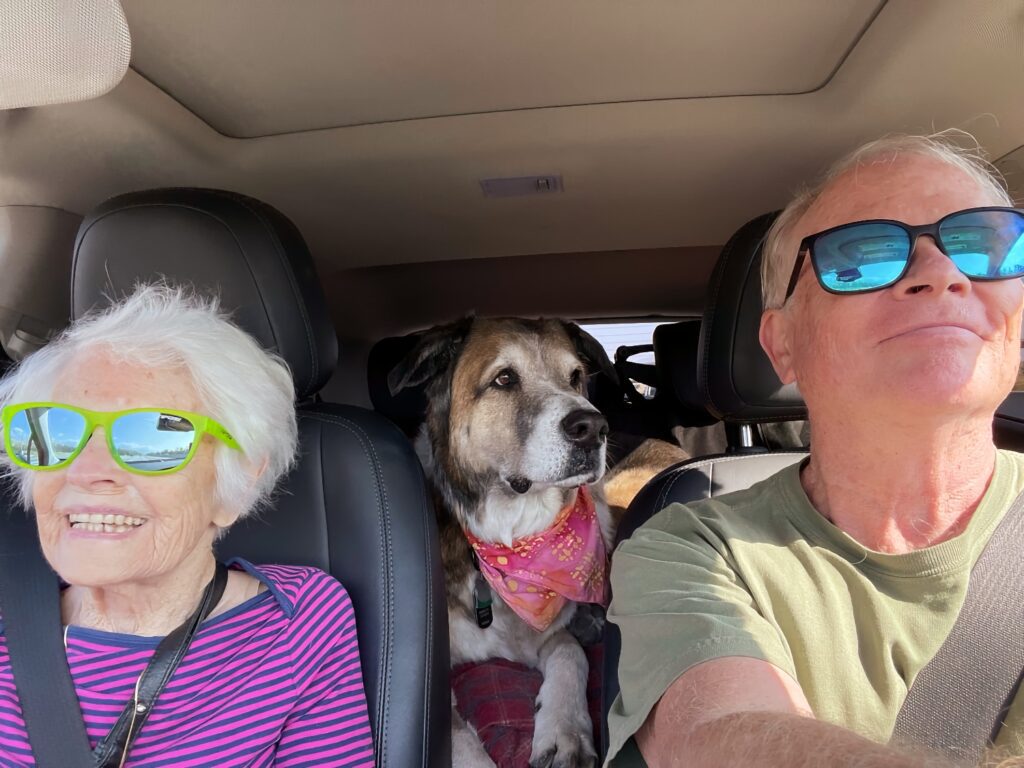 Having The Log Book there when Brooks – The Happiest dog in The World! embarked on his eternal journey makes Howard's entry so much more profound. Despite dealing with the loss of a much loved one, she graced the book with her entry: hard to describe this honor adequately.
Visit Howard's website for more details of the Kamikaze attack on the USS Comfort, including the incredible profile of Father Weilandt, the ship's chaplain.
https://www.dorishoward.vet/USS-Comfort-1945.htm
Doris Howard turned 102 on 23 March 2022 – an amazing legacy and life of service so well lived!
Last Updated on 23 March 2022 by Nick Devaux