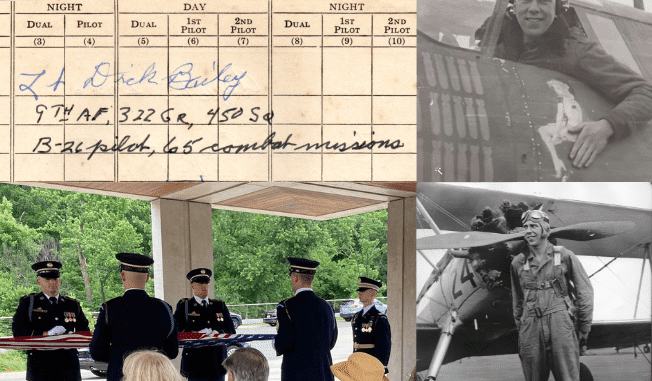 The Log Book Project was graced with the signature of Mr Richard "Dick" Bailey on 31 July, 2019. During WWII he served in the 450th BG, 322th BS in the 9th AF as a B-26 Marauder pilot, completing 65 combat missions over Europe.
On D-Day the 322d pounded enemy positions supporting the Allied offensive at Caen and the breakthrough at Saint-Lô. For their actions the 322d was awarded a Distinguished Unit Citation for "outstanding performance of duty in action…".
Facilitated by long-time friend Steve Hoofnagle, the signing occasion coincided with his 97th birthday. Hoofnagle put out a call for birthday cards in advance and the internet responded with over 130! Bailey was thrilled and touched by the attention and Hoofnagle kindly snuck the log book in among them.
Sadly, 1LT Richard "Dick" Bailey DFC (w. Oak Leaf) AM, USAAF (Ret.) flew west on his last mission 3 November, 2020 leaving friends and family heartbroken.
On 10 June 2022, he was interred at the Arlington National Cemetery, an honour available to eligible service members and veterans. His internment in the Columbarium was conducted with Military Funeral Honors. With family and invited friends attending, the proceedings included an Honor Guard, gun salute and presentation of the U.S. flag to Mr Bailey's son Capt. Don Bailey, USMC (Ret).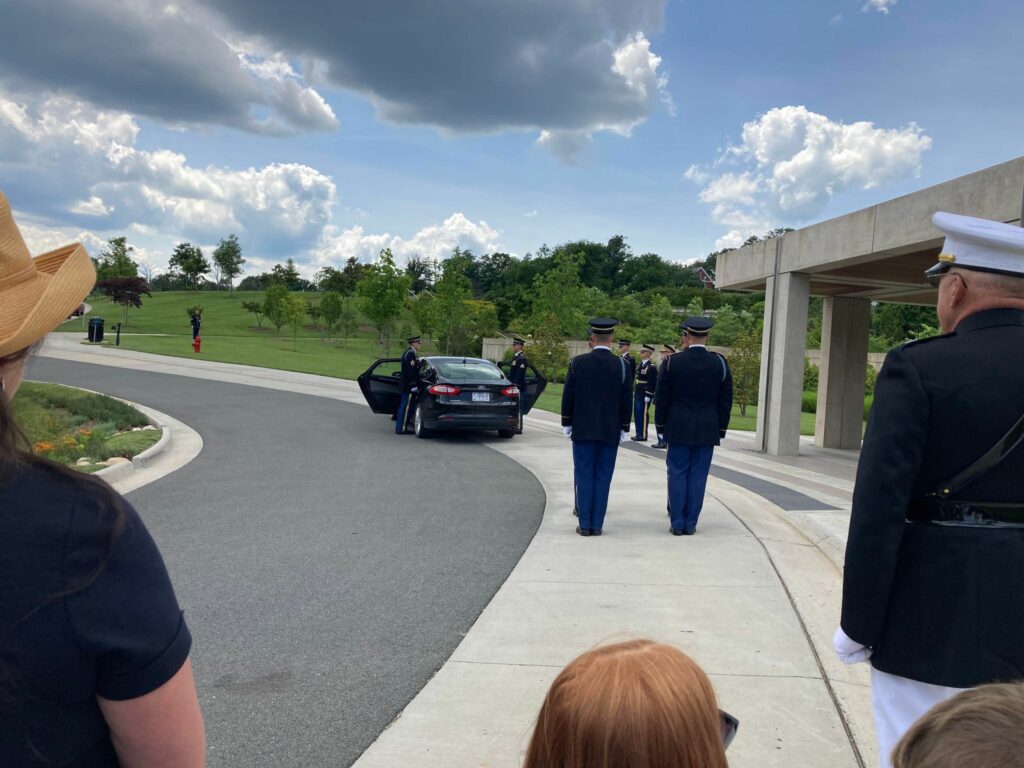 It is hard to fathom that this log book was held by someone who turned down a Purple Heart citing "inadequate injuries" to merit the award; such are the incredible service portraits of Project signatories like Dick Bailey.
We will never be able to repay the awesome debt owed to the generation that sacrificed so much. Contemplating the over 200 signatures in the book, the veterans uniformly make one simple but profound request; Remember!
Rest in peace Mr Richard "Dick" Bailey and thank you for your service – we have the watch.
Last Updated on 5 August 2022 by Lars McKie