One of the things that intrigues me about WWII is the idea of the "other side" of the story. The experience from the adversary's perspective, or perhaps from a third neutral party.
Within the mass Freedom-vs-Tyranny narrative of the conflict, there exists an endless myriad of alliance-betrayal-survivor-heroic-cowardice-sacrifice and preservation subplots that defy description.
The war was a messy descent into the darkest recesses of human cruelty and destruction. Every imaginable resulting behavior on display. It is easy to judge from a global perspective: the Nazi holocaust was evil incarnate. The Japanese imperial army visited diabolic abuse on allied POWs and conquered civilian populations alike.
What and why.
As you begin to drill down to individual actions and motives however, determining culpability can become less obvious. For the moment, I choose therefore, to focus on the "What" as concerns the signatories stories in the Log Book. Perhaps some day I may foolishly attempt to delve into the "Why". But for now the task of diligently researching the "What" is more than sufficiently challenging.
It was hugely satisfying therefore to realize that TLB had close representation from both sides of the Nüremberg trials. Ben Ferencz, born about 2 weeks after my dad, in March 1920, is now 100. He is the last living prosecutor from the Nazi trials at Nuremberg and was among the first Log Book signatories.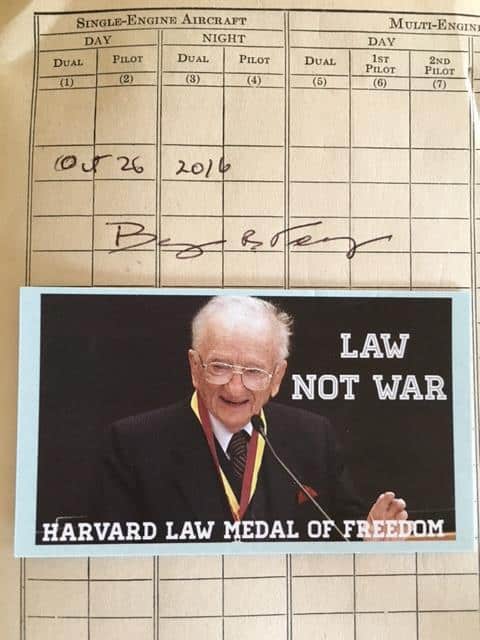 On the other side. Imagine knowing your father was of one of the 12 high-ranking Nazis sentenced to death by the International War Crimes Tribunal. I can't really. But such was the fate for Rudolf von Ribbentrop (tank commander during the Battle of the Bulge). His father, Joachim von Ribbentrop, Nazi minister of foreign affairs, was so convicted.
Von Ribbentrop Sr. and Jr. had visited Hitler in his underground bunker in Berlin in February 1945. This was just 3 months before Hitler's death and Germany's capitulation. On 16 October 2018, Rudolf von Ribbentrop signed TLB, he passed away just 7 months later aged 98:
https://www.nytimes.com/…/rudolf-von-ribbentrop-dead.html
These events happened, these men were there.
The staggering weight of this history, captured in the signatures of Mr. Ferencz and Mr. von Ribbentrop on 2 pages of TLB is hard to grasp much less comprehend… at least in my humble opinion.
Last Updated on 1 February 2021 by Lars McKie