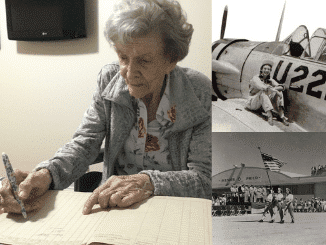 The women pilots of WASP amassed an incredible record through WWII. They flew 60 million miles; transported every type of military aircraft; towed targets for live anti-aircraft gun practice; simulated strafing missions and transported cargo. Thirty eight WASP members lost their life serving the war effort, it wasn't until 30 years later the service was recognized as "active duty". Mrs Bernice "Bee" Haydu née Falk was one of the remarkable WASPs assigned to Pecos Army Airfield as an engineering test pilot.
We are indebted to her daughter Diana and son in law Jeff Potter for their assistance facilitating Mrs Haydu's signature. It was on 23 November 2019, only 3 weeks shy of her 99th birthday, that she bestowed tremendous honor to the project by signing her name in The Log Book.
Born and raised in Montclair, New Jersey Bernice Falk graduated from high school in 1938. She enrolled in aviation classes on weekends having a brother being in the Army Air Force realizing she also liked flying. This was the start of a career within aviation rendering a resume and life legacy that would intimidate the most experienced pilot. A truly charming accomplished woamn who broke down many ridiculous sexist barriers during the course of her life.
WASP – Women Airforce Service Pilots
By merging the two pioneering organizations WFTD and WAFS the new organization WASP was created 5 August 1943. The civilian women members of WASP became trained pilots who tested aircraft, ferried aircraft and trained other pilots.
From 25 000 applicants only 1830 was accepted into the program with 1074 ultimately earning their wings becoming the first women to fly American military aircraft. Bernice Falk was one of these women who attended and completed flight training on Avenger Field, Sweetwater, Texas 1944.
In her seven months training she logged 210 hours in aircraft like the PT-17 Stearman, Vultee, BT-13 Valiant, AT-6 Texan and the twin engine Cessna AT-17 Bobcat [1]https://www.aopa.org/news-and-media/all-news/2021/february/03/wasp-bernice-bee-haydu-dies. It is during her training she earns her nick name "Bee" as someone said she flew like a bumble-bee. After graduating Class 44-W-7 [2]https://www.vaughn.edu/blog/womens-history-month-honoring-the-legacy-of-bernice-bee-falk-haydu/she was assigned to Pecos Army Airfield as an engineering test pilot and a utility pilot.
I wanted to do more for my country than what I was doing, just being a secretary in a war-related product. However, I wanted to do more. And, so, I felt a little more fulfilled when I was flying for the country.

Bernice Haydu née Falk, June 2015 [3]

https://learningenglish.voanews.com/a/woman-world-war-2-pilot-honored/2808768.html
Service
WASPs were stationed at 122 air bases across US and performed numerous flight-related missions. Through WWII they delivered over 12 000 aircraft of 78 different types on ferrying missions. In total they freed up about 900 male pilots for combat duty during the conflict.
Their service was not without risk, among one of the more hazardous duties was target towing for live anti-aircraft artillery practice. Announcing the assignment the WASPs were given a chance to opt out should they wish; none did. Many planes were hit by accident during these flights several WASPs were also hit in the feet. Sometimes the planes were shot on purpose by service men believing they should shoot at the plane and not the target the WASP was towing. Haydu knew the work was dangerous but it was simply something that had to be done.
Sacrifice and casualties
Thirty-eight members lost their lives in accidents, twenty-seven were killed on active service missions. Not being considered part of the military a fallen WASP was sent home at family expense. The traditional military honors or note of heroism, such as allowing the U.S. flag to be placed on the coffin or displaying a service flag in a window, was not allowed.
The WASP program was cancelled December 1944 and it would only be the start of Falk's career in aviation. Earning her CFI (Certified Flight Instructor) rating she opened a Cessna dealership and started a flight school with other veterans. Through it all she stayed committed to the WASP organization and fellow women veterans. From 1975-178 she served as president of the WASP organization she worked to have Congress recognize women pilots as veterans.
Legacy
Over 30 years since the end of WWII the contributions and sacrifices of WASPs were finally recognized. With President Jimmy Carter signing legislation The G.I. Bill Improvement Act of 1977 the service as a WASP were to be considered as "active duty" granting them veteran status.
On 1 July 2009 President Obama and the United States Congress awarded the WASP the Congressional Gold Medal. Three of the roughly 300 surviving WASPs were present to witness the event. Bernice Haydu née Falk was one these incredible women seen in below image far left.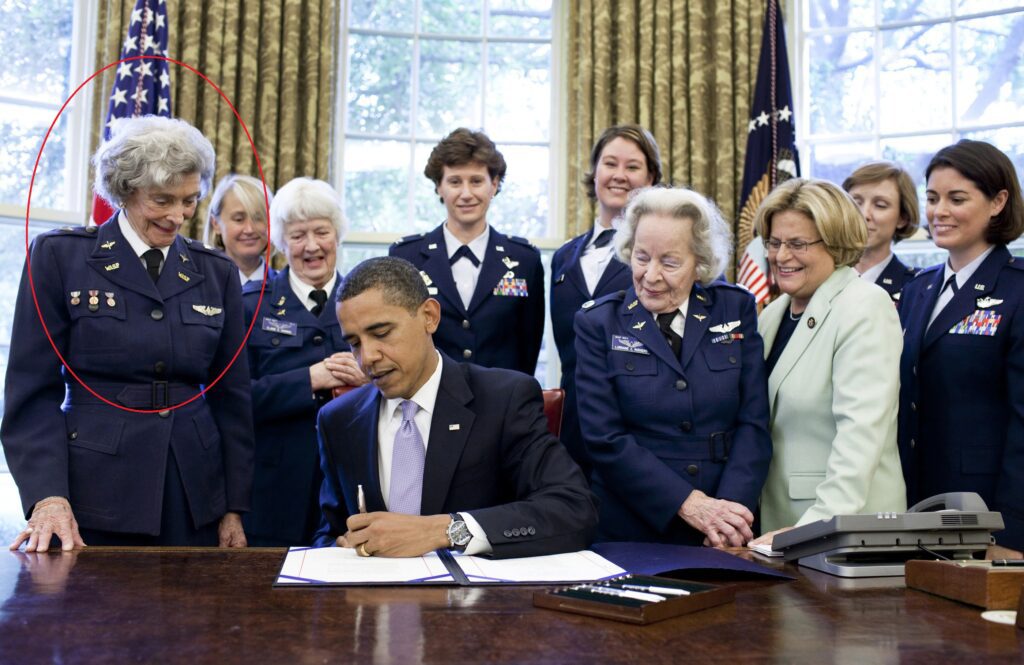 Preserving history and tribute
Haydu has also made significant contribution to preserving history by donating to Smithsonian National Air and Space Museum[4]https://airandspace.si.edu/stories/editorial/bee-falks-100th-birthday. Her WASP Santiago dark blue uniform was donated as early as 1971 and in 1989 she donated some of her personal papers.
It was great sorrow we learned of Bernice "Bee" Haydu's passing 30 january 2021. Her incredible legacy speaks for itself, we are honored to tell her story.
Fair skies.
Last Updated on 13 July 2021 by Lars McKie