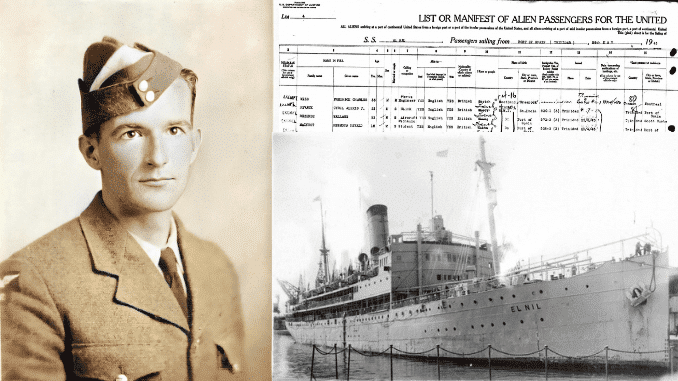 Cyril Devaux's journey to join the war effort started in 1943, like many others, eager to do his part, and surely impacted by the war going on in the Caribbean. There is a common misconception of a tranquil Caribbean far from the frontlines of WWII.
Reality was however very different as the area was strategically significant with its oil fields in the southeast, Panama Canal in the southwest and some of the worlds largest oil refineries on Curacao, Aruba, and Trinidad.
As United States entered the war in December 1941 following Pearl Harbor it removed all neutrality assertions previously protecting trade shipping in the Western Atlantic.[1]https://en.wikipedia.org/wiki/Battle_of_the_Caribbean
Immediately, in January 1942, Axis submarines sails for the Caribbean setting Operation Neuland in motion. Orders were to wage unrestricted submarine warfare against allied shipping and oil industry for which the Caribbean is hopelessly unprepared for at the time.
The onslaught is severe, even ports are attacked at night where anchored ships get torpedoed and set ablaze. In two daring raids the German submarine U-161, under the command of Kptlt Albrecht Achilles, attacks Trinidad on 19 February 1942 sinking two anchored ships outside Port of Spain. He makes a successful egress out of the Gulf of Paria with decks awash and running lights illuminated to resemble one of the harbour small craft.
Later during the same patrol, on 10 March 1942, Achilles commands U-161 in a similar attack on the St Lucian shallow port of Castries where he sinks two ships, the Lady Nelson and Umtata, moored to the dock.[2]https://www.uboatarchive.net/U-161/KTB161-2.htm
Through 1942 alone allied shipping losses in the Caribbean amounts to 336 ships with a gross tonnage of 1 559 422.[3]https://en.wikipedia.org/wiki/Battle_of_the_Caribbean#Allied_vessels German u-boats mined harbour entrances and shelled refinery installations with deck guns virtually unopposed. It will not be until 1943 that the Anti-Submarine Warfare (ASW) tactics and allocated resources start to pay tribute providing some relief and respite in the losses…but the terror of Axis u-boats remains as a constant threat.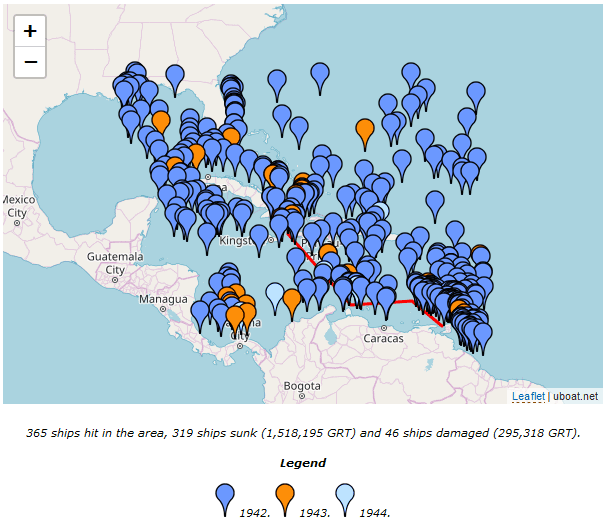 With SS El Nil bound for New York
It is against this backdrop that Cyril Devaux, 80 years ago, with nine other young recruits' board the SS El Nil on the evening of 28 May 1943. Their goal is to join war effort by volunteering with the RAF and receive training through the BCATP (British Commonwealth Air Training Program) in Canada. The El Nil is to take them on their first leg of the journey to ultimately be sworn in at No 31 Personnel Depot in Moncton, Canada.
Approaching the edge of the wharf in Port of Spain at night they get into a small launch that takes them to the ship. Pulling up alongside the ship around ten o'clock the ten, with their suitcases, gets up the gangway to be assigned their cabins.[4]Memoirs of Desmond O. Maingot
The SS El Nil is built in 1916 by Reiherstieg Schiffwerft, Hamburg, Germany for the German East Afrika line. Through various changes of ownership and names, she had received her name El Nil in 1933 when sold to Société Misr de Navigation Maritime, Egypt[5]https://forums.ybw.com/threads/ww-2-british-hospital-ship-el-nil-ex-tjerimai.34687/. Since 1940 been chartered by Britain as a troopship with numerous voyages across the Atlantic.[6]http://www.convoyweb.org.uk/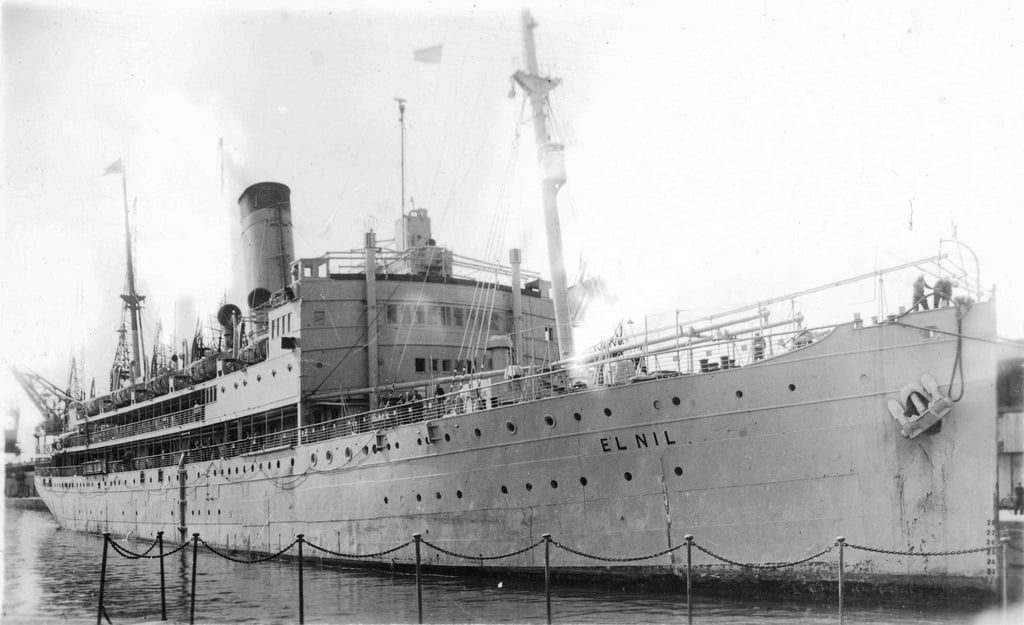 This will be her last journey before being converted to a Hospital Ship in Halifax after arrival to New York in June 1943. After conversion she deploys to UK and stand at the ready in Gourock, Scotland on D-Day 1944, after the landings she assumes her duties ferrying casualties between Cherbourg and Wight well into 1945.[7]https://discovery.nationalarchives.gov.uk/details/r/D8650591
The ten volunteers
With Devaux was also his best friend Trevor Rostant, their friendship started in 1941 and held true for over 56 years with Rostant being Devaux's best man at his wedding in 1947. A friendship that remained firm until Devaux's passing in 1997 where Rostant wrote a very moving eulogy for his funeral.
In all they are ten men from the British West Indies on the ship, all of them will be sworn in with the RAF on 16 June 1943[8]AIR 2-6876, and quite a few will deploy to see the horrors of war.
Cyril A.J. Devaux (605613 / 167172) – commissioned P/O, Pilot
Charles K. Goddard (605617 / 167185) – commissioned P/O, Pilot
Peter Cecil Alexander Bynoe (605614 / 165745) – commissioned P/O, A/B
Joseph F. Belle (605615 / 165607) – commissioned P/O, Wireless Operator (WO) & Air gunner (AG).
Desmond O. Maingot (605612) – Sgt, Wireless Operator & Air gunner (AG), No. 5 OTU
Dudley S. Gaskin (605616) – Sgt, Wireless Operator (WO) & Air gunner (AG).
Allan P. Poon-Tip (605619) – Sgt, Navigator, No 166 Squadron
Frank W. Vilain (605611) – Sgt, Air gunner (AG), No 35 Squadron
Wallace J. Regende (605618) – AC2, u/t
Trevor P. Rostant (605620) – AC2, u/t
Although the above information, as transcribed from AIR2/6876, is incomplete and does not fully state all the actual postings one can decipher a few things.
Of the ten four proceeds to become commissioned officers and four as non-commissioned aircrew and Aircraftmen under training. Noting the initial service numbers assigned, the 605XXX series, one can almost envision our ten volunteers in a line in the order of their service number. With 605611 Frank Vilain first in line to the last man of Trevor Rostant with 605620, with Maingot 605612 in front of Devaux 605613.
From the group only Devaux and Goddard eventually qualifies as pilots, Bynoe appear to have become a bomb aimer whilst Belle, Maingot and Gaskin all served as Wireless Operator/Air gunners.
Rostant, failing an eye test to become aircrew, was posted to United Kingdom and served as an aircraft mechanic.
Vilain was posted to No 35 Squadron serving on Lancasters as an Air gunner.
From what can be gathered, the only war casualty of the group was Allan P. Poon-Tip. Serving in No 166 Squadron as a navigator his Lancaster III (ND707, Sqr code AS-E) is lost during a raid night of 4th/5th April 1945, the entire crew is lost.
Allan Percy Poon-Tip is buried at the Berlin 1939-45 War Cemetery, collective grave 6.G.13-19[9]https://www.cwgc.org/find-records/find-war-dead/casualty-details/2760669/allan-percy-poon-tip/.
Hazards and refugees
Through the memoirs Mr Desmond Maingot, one of the ten, who after the war will become Devaux's brother in laws brother, we get to learn more about the circumstances on board El Nil. The group did a lot of walking making friends with everybody while playing shuffleboard and various other games. Among the other passengers was an Australian newspaperman, one American Flying Tiger and his Burmese wife.[10]Memoirs of Desmond O. Maingot
The hazards of the journey they all had just embarked on would have become acutely apparent. Serving as a constant reminder are a few merchant marine sailors among the passengers being repatriated to US and Canada after having been torpedoed and sunk.[11]SS El Nil Passenger lists and immigration records filed in New York 10 & 11 June 1943
Another sign of the terror of war would have been the numerous men, women, and children on board of Jewish origin on their way to seek refuge in the United States.[12]SS El Nil Passenger lists and immigration records filed in New York 10 & 11 June 1943 Not that Devaux, Maingot or Rostant and their comrades would need further encouragement, but perhaps it gave them additional support in that their decision to join the war effort was right.
Most of these Jewish refugees were fleeing a Palestine which at the time had seen "200 days of dread", the constant Axis advancement east across Africa towards the Suez Canal. By early 1943 the advance had been stopped but many still saw Axis victory as the likely outcome, and with it a similar fate for Jews as already demonstrated in other parts of Europe.
Boarding the EL NIL in Port of Said, Egypt they are to make this perilous journey to seek refuge in the United States.[13]SS El Nil Passenger lists and immigration records filed in New York 10 & 11 June 1943 Sailing through the Suez Canal arriving to Cape Town, South Africa end of April 1943 before crossing the Atlantic to Bahia, Brazil. Arriving Port of Spain, Trinidad on 26 May, 1943 with convoy BT13 having left Bahia on the 14th May.
The journey also presented some other challenges of lesser importance with Maingot describing how all they drank all the rum on board and finishing the last of the sherry three whole days before arriving in New York, the story told with humour adding that no one ever got drunk or unruly.[14]Memoirs of Desmond O. Maingot
As daylight breaks on the morning of 29 May 1943, the group wakes up at sea underway and surrounded by the numerous other merchant ships making up convoy GAT63. The sea is calm with a light breeze from the northeast and a temperature of 27C.[15]Ship log of HNLMS Van Kinsbergen
Exiting the Gulf of Paria through Boca del Navios the convoy soon leaves the Chacachacare Lighthouse behind heading west zigzagging settling on a base course of 300.[16]Ship log of USS Biddle DD-151
Last Updated on 13 September 2023 by Lars McKie