Dame Vera Lynn OBE, English singer, songwriter and actress awarded a British War Medal 1939–1945 and the Burma Star.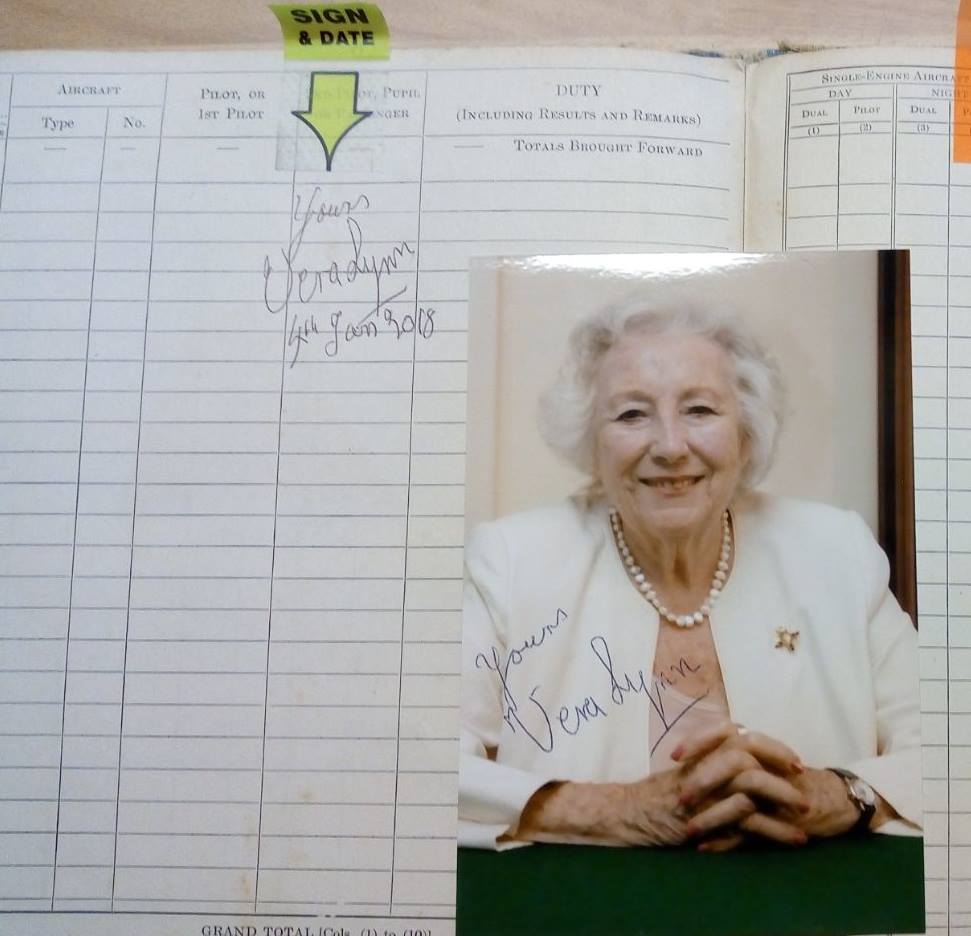 Known as "the Forces' Sweetheart", who toured Egypt, India, and Japanese occupied Burma as part of ENSA.
This was very much a case of "be careful what you wish for and getting it". At 101, Dame Vera still gets mountains of fan mail and so when I reached out to her, I did not really expect a reply. I was most pleasantly surprised and greatly honored, upon receiving not only an acknowledgement, but also permission to send the log book for her to sign!
One of the book's previous signatories, Lester Schrenk, who was shot down and spent 15 months as a POW, including a harrowing death march before being liberated in 1945, commented to me how comforting her songs were during his extremely perilous missions over Europe:
"I so enjoyed her songs while in combat in England. She made lonely people like me have hope. Her White cliffs of Dover are a classic. The cliffs of Dover mean so much to me. They were such a relief to see when returning from a mission… what a welcome sight to know that we were safe again.

Please give her my thanks and blessing. She inspired all of us in our darkest hour. A true Lady!"

Lester Schrenk upon hearing about the upcoming signature.
I included the above quote from Mr. Schrenk in an accompanying letter to Dame Lynn. Her response (pictured) was deeply touching and gracious.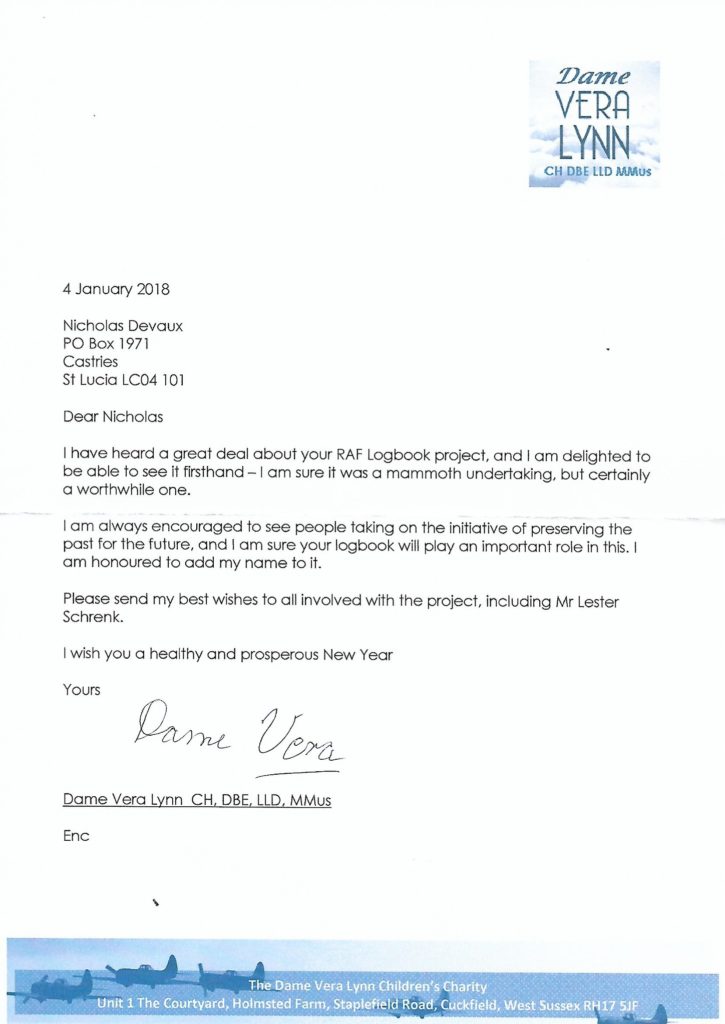 Naturally Mr. Schrenk was thrilled to be acknowledged by someone he so admired. Dame Lynn's personal assistant and publicist, Susan Fleet of Lea Graham Associates Ltd had just released a tribute album after more than two decades of friendship on 15 December 2017. Fleet was encouraged to record the album by top jazz singer and BBC presenter Claire Martin OBE, who offered to produce the project.
All net profits from the CD go towards the Dame Vera Lynn Children's Charity which supports under fives affected by cerebral palsy and associated diseases based in Cuckfield. The album is available as an mp3 download on Google Play, Apple Music, iTunes and Amazon.
To find out more about Dame Vera's charity, visit: www.dvlcc.org.uk
Last Updated on 6 November 2020 by Lars McKie