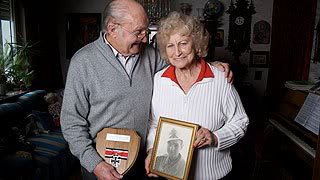 Ms. REGINE HALM – wife of Günter Halm, German infantryman; personally honored by General Field Marshall Erwin Rommel with the Knight's Cross for his bravery in El Alamein.
I first learned about Günter Halm from an an encounter he had with Victor Gregg some 70+ years after the battle at El Alamein, where both men fought on opposing sides. The respect and high regard these two former enemies had for each other was very moving. I managed to contact Mrs. Regine Halm thanks to the The Dresden Trust. Mrs. Halm readily agreed to receive the book and have her husband sign it. Sadly Gunter Halm passed away suddenly on 26 September 2017 while the book was still in the UK.
By all accounts Günter Halm displayed incredible bravery on the battle field and did his part in rebuilding Germany in the post war years. He spoke candidly about the horror and brutality of his experiences here:
https://cvhf.org.uk/…/highlights-of-knights-cross…/
Regine Halm not only agreed to sign on her husband's behalf but she too had her own experience's growing up in war torn Germany. Her father did not return from Soviet captivity until 1949. Despite her husband's death, she proceeded to get several other former German WWII veterans to sign the logbook . I am indebted to her for the addition of the following:
Friedrich Schreiber – 13 Panzer Division, 1941 – 1945, Sergeant – Panzer Regiment 4 -1945.
Heinz Rothe – 257th Infantry "Berlin Bear" Division.Willy Rieudshagen – Kreigsmarine 9th U Flotilla, Brest.
Heinz Rökker former night fighter pilot in the Luftwaffe during World War II. Recipient of the Knight's Cross of the Iron Cross with Oak Leaves.
Mr. Rökker sadly passed away in August 2018 and was buried in Oldenburg. He was a dear friend to Mrs. Halm and she mourned his passing. Every July, Regine Halm hosts a group of Russian youth for a summer choir camp. She sees this as part of the Russian/German reconciliation process. She is a most extraordinary, kind and gracious woman who went out of her way to assist the Logbook project. I will always be indebted to her.
There is no attempt here to romanticize the tyranny of the Nazi and Japanese war machines. Nor is there intent to deny, soften or justify the culpability of those who committed heinous war crimes and atrocities. Then, as now, front line fighting was conducted mostly by young men, boys actually, who, stripped of their individuality, were forged into forces highly trained in the business of ending life. The Logbook therefore seeks to gain perspective by examining the experience of the individual within the machinery and madness of war.
My, albeit limited, research and interviews with these now-old men, indicates that – regardless of origin – in the thick of bloody horrendous conflict, a professional soldier will readily give his life, for the comrade in arms alongside him; NOT for ideologies and causes of those far removed from the front line.
Last Updated on 6 November 2020 by Lars McKie