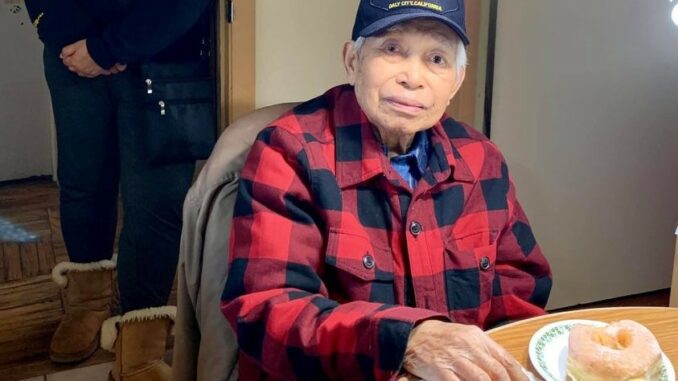 With heavy hearts we announce the (6 March, 2021) passing of former Filipino Scout and Bataan Death March survivor, Mr. David Tejada. His close-knit family are understandably heartbroken.
Death has been a constant companion along this journey. But we are so grateful to be afforded a glimpse into the lives of these stoic giants.
On 6 January, 2018, David Tejada signed a page from the logbook that has been traveling the world in similar fashion to the main book. It's one of two pages that have come loose that we use to cover more ground because time is not a luxury – at any point really – but especially beyond 90.
Last year we were able to also send the logbook to Tejada and he graciously signed alongside Col. Ben Skardon and Peter Pineda, both fellow survivors of Bataan. The combined experiences of these three men on one page is beyond humbling.
Just recently Tejada's daughter Rosie, posted a candid picture of her dad with a donut. A lovely sight of a modest man enjoying a simple pleasure.
Rest in peace Sir, we are honored to tell your story.
Last Updated on 8 March 2021 by Lars McKie