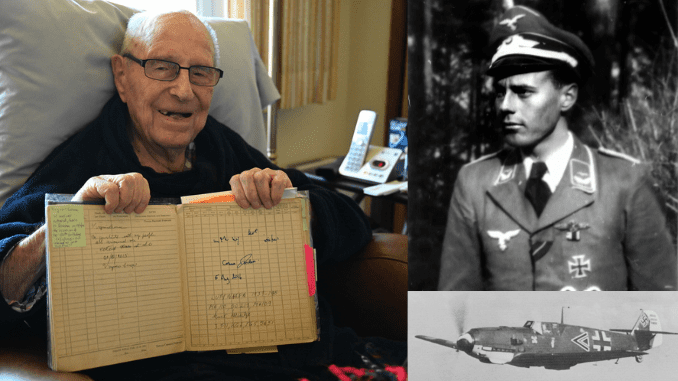 Born in Germany 1921, Kurt Schulze entered German military service in 1939 initially serving in the Air Signal Corps through 1940.
By 1941 Schulze had become a Leutnant (2nd Lt) now serving as a Wireless operator with Aufklärungsgruppe 11 (11th Reconnaissance Group) 3F/11. From June, 1941, the Staffel (Squadron) took part in the Balkan campaign flying the Me 110 that they recently had converted to. Here he flew several long-range reconnaissance missions over southern Russia before returning to the western front.
During 1942 he served in 1./KG2 (Kampgeschwader / Battle Wing) as a navigator. Schulze flew 23 missions in the twin engine medium bomber Dornier Do 217. The unit engaged in night attacks over Britain and dropping naval mines in the English Channel and along the British East coast.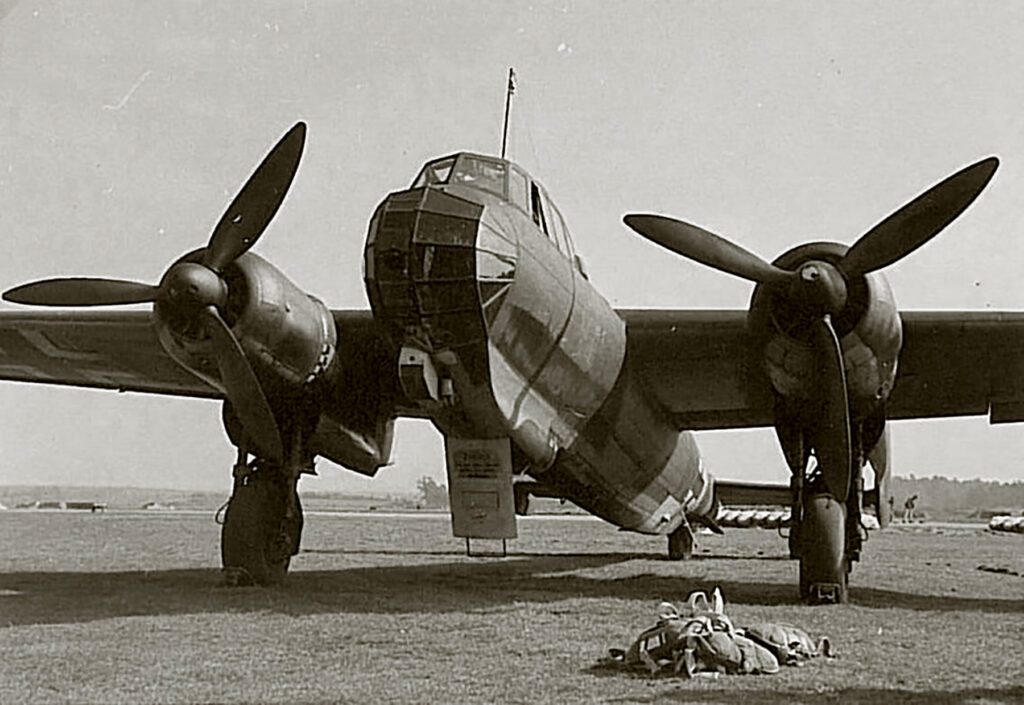 Earning his wings
In 1943 Schulze initiated training as a pilot where he received his wings in September the same year. After further training to become a fighter pilot, through JG-102 and JG-108, he was then stationed in JG-5 based in the Petsamo region of north Finland. From July 1944 he flew 65 missions in a Bf109G, many of them over the fiercely contested Murmansk area.
On 16 September, 1944 he was shot down over the Russo-Finnish border. Luckily, he was rescued by German Mountain troops and was able to return to safety.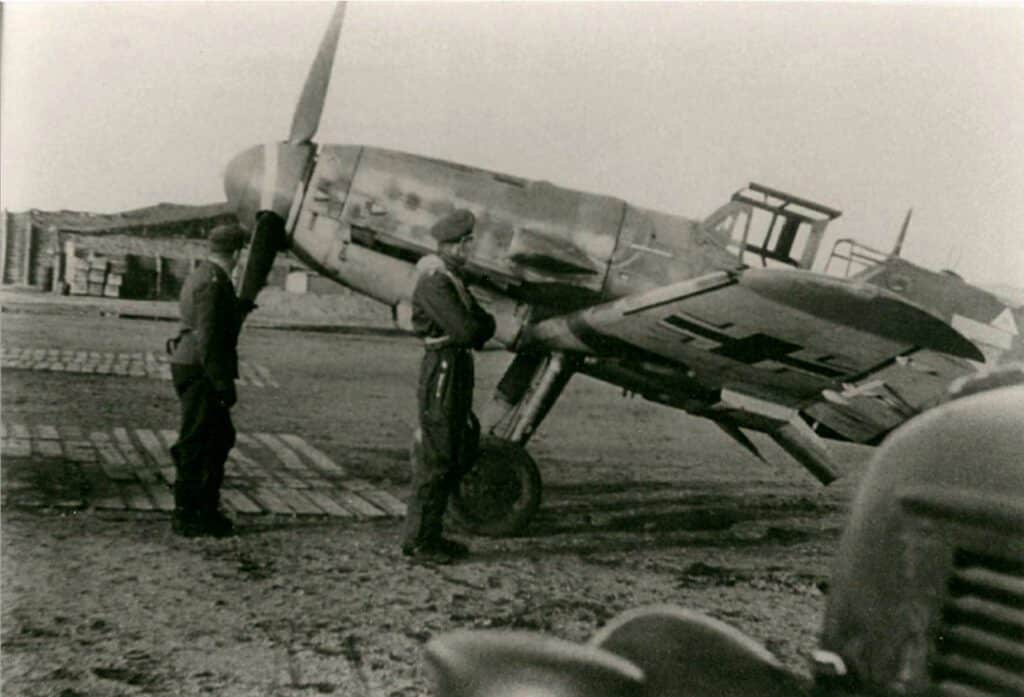 Image from Kurt Schulze collection courtesy of Klaus Thiele.
Only a few days later in September, 1944 his unit had to relocate to Norway as a peace agreement between Russia and Finland was signed. Now stationed at Bardufoss aerodrome the unit was tasked with providing air cover for the battleship Tirpitz moored of Håkøya Island outside Tromsø.
The Tirpitz
On 12 November, 1944 JG5 was scrambled to repel incoming RAF bombers attacking the Tirpitz. The flight time from Bardufoss to her mooring location is only a few minutes but delays in their takeoff results in their arrival on scene being to late to offer any protection. Arriving on scene Schulze recalled seeing the ship already capsized with no enemy RAF bombers to attack.
In an interview recorded for "RAF Stories" he recalls his unit being blamed for the loss by not being able to find the correct fjord, a claim that Schulze objected to and detested profusely. His commanding officer, Major Heinrich Ehrler with (then) almost 200 aerial victories, was scapegoated and court-martialled for the loss with a sentence that was later commuted.
The Tirpitz sank with a tremendous loss of life, the exact number varies between 950 and 1204, and the circumstances surrounding her sinking is still subject to some controversy.
---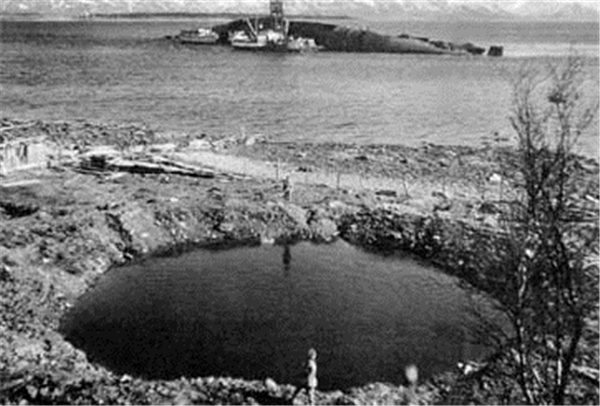 ---
On this day Schulze was only minutes away from encountering someone that decades later will become another The Log Book signatory. One of the RAF Lancaster Bombers (ME561) from 617 Squadron dropping 12 000 lb Tallboy bombs on the Tirpitz is piloted by RNZAF F/O Arthur Joplin. In an incredible coincidence the two veterans not only shared airspace in 1944, they also sign the log book within weeks of each other's over 6000 miles apart.
End of war and POW
Having been in command of a training squadron for two months in early 1945 he was given a new command. On 2 March, 1945 Schulze flies a Bf109G10 into the encircled city of Gdansk in East Prussia and flies his last 9 missions in command of a JG-51 squadron. Returning to Norway on 2 May 1945 he assumes command of 16/JG-5 just a few days before the German surrender.
Schulze will spend the next two years as an American POW being sent to several different locations in France, finally released in June 1947. In 1953 he immigrates with his family to United States and settles in Inglewood, California. Becoming a US citizen in 1958 he retires in 1990 after a successful career in Real Estate and Banking.
Old Bold Pilots Association
Mr Schulze became a most revered member among his peers within The Old Bold Pilots Association in California where former adversaries reconciled on the common ground of their passion for aviation.
As a testament to the strong bond shared among the Old Bold Pilots it was Mr Jeff Watskins who introduced Klaus Thiele to Schulze and OPB. Living in the same neighbourhood, Watkins asked if Thiele, also being of German heritage, would consider to come meet Schulze who at the time had just lost his wife. The gesture and care exhibited by Watkins becomes profound when digesting that he on 12 November, 1944 at 0949 hours piloted RAF Lancaster PD196 from No. 109 Squadron RAF dropping a Tallboy bomb aiming to hit Tirpitz.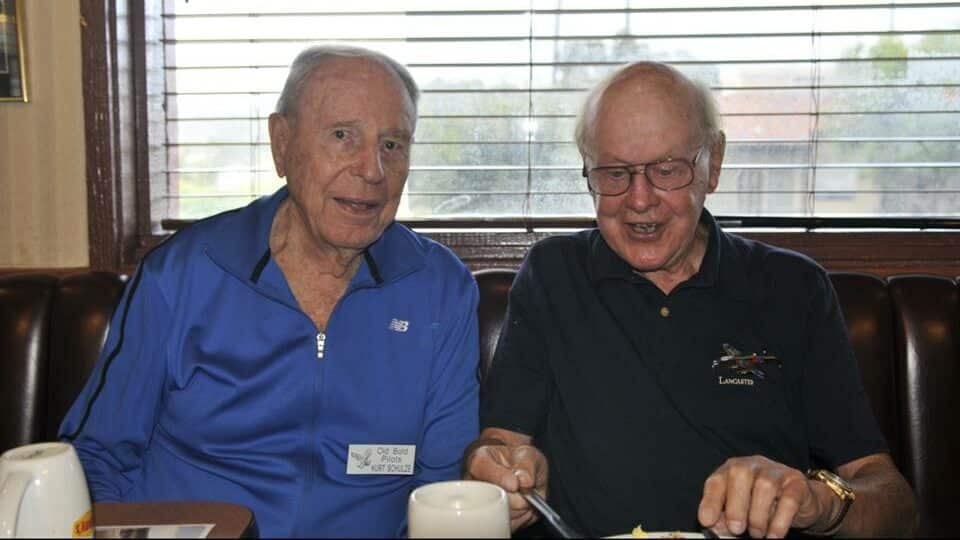 Signature
The project was honoured on 9 June 2021 when Mr Schulze signed the log book. His entry provides immense gravitas to the project allowing a small peak into his legacy and service. We are indebted to Klaus Thiele for facilitating this signature but also for his continuous support of and contributions to the project.
Mr Schulze passed away on 4 December 2021 just a few months after his 100th birthday leaving friends and family heartbroken.
---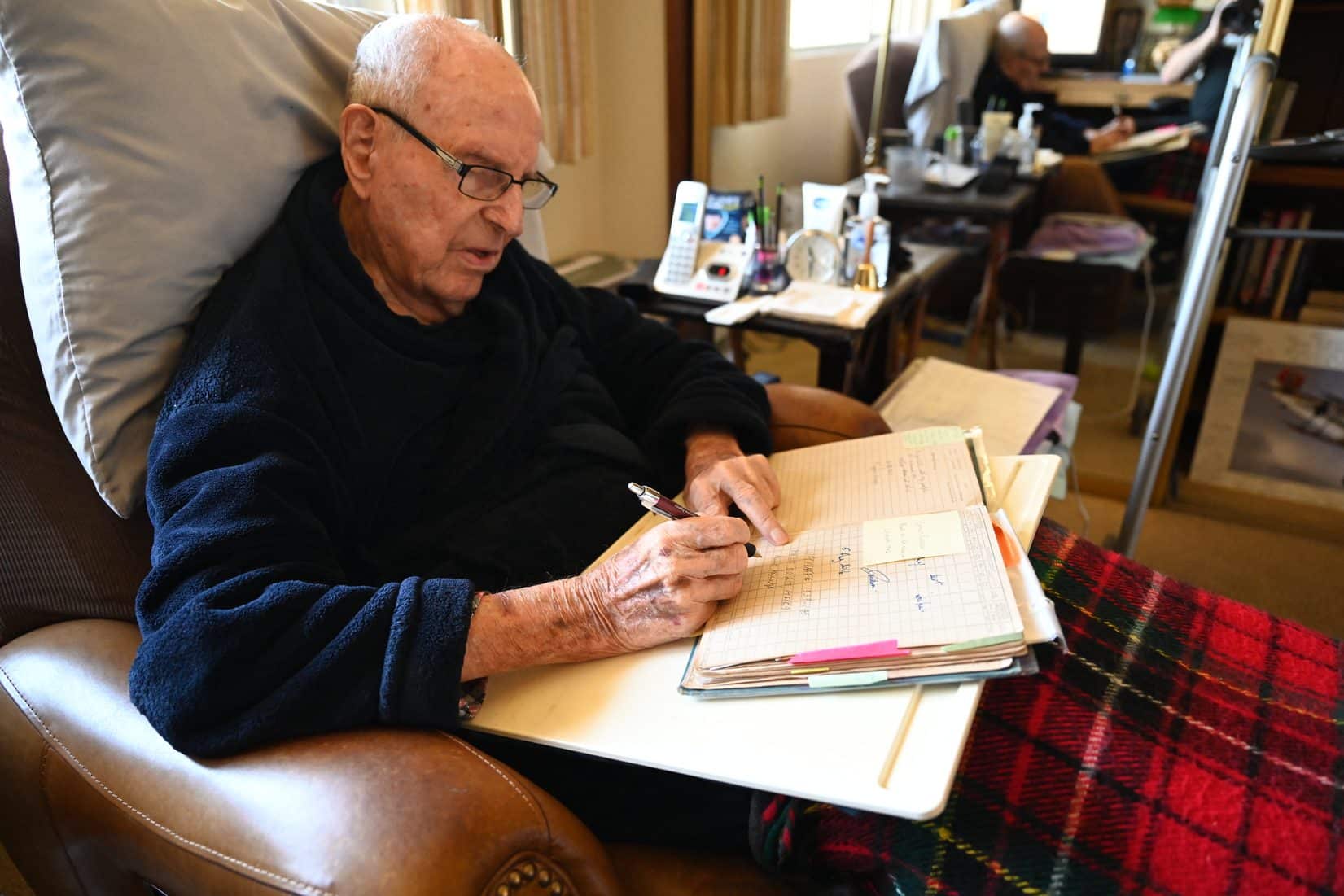 ---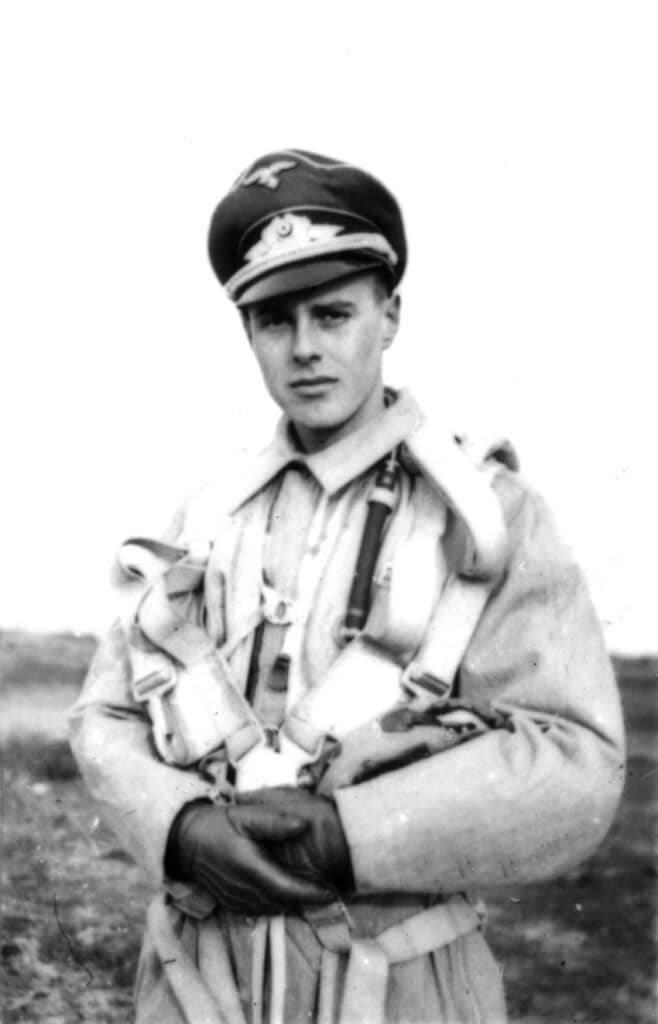 Last Updated on 14 August 2023 by Lars McKie