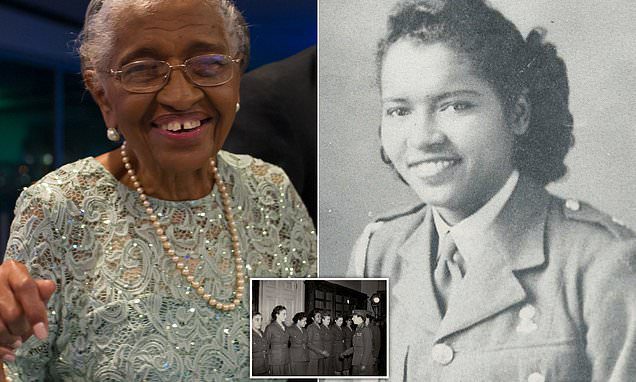 On too many occasions fate has intervened in TLBP where a veteran, having agreed to sign, has sadly passed away before the book could be presented for signature. Ironically, today's post – a successful entry from neighboring Barbados – resulted from the passing of a veteran I never knew, but evidently owe a great deal to, 108-year-old- Anne Robson.
Robson's passing, as the oldest female British Army veteran, spurred a search to find a living successor by the Women's Royal Army Corps Association (WRAC) – the only charity supporting female British Army veterans. That search turned up Jamaican native, Ena Joyce St. Clare Collymore Woodstock, presently residing in Barbados who turned 106 on 10 September 2023. TLBP was a privileged online guest to the family's wonderful family celebration at her daughter Marguerite Woodstock Riley's home in Barbados. There is no denying the incredible legacy Ena has created within her family, community, and wider Caribbean.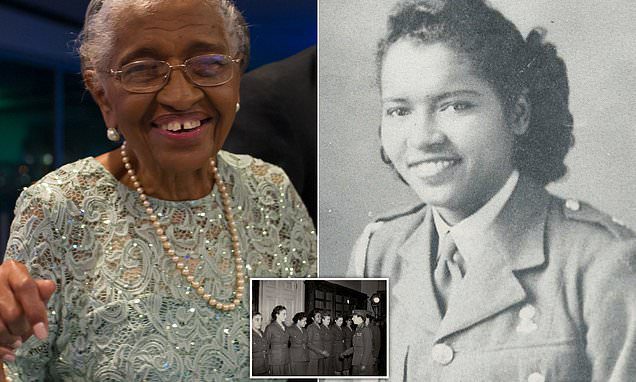 Early years and prelude to war
Collymore Woodstock was born on 10 September 1917 in Spanish Town – pre WWII Colonial – Jamaica. Her father, Frank, stationmaster of the national railway, lost an arm after falling from a train early in his career. He died when Collymore Woodstock was young, leaving her mother Madeline to raise their four children. Tragedy struck again shortly after Collymore Woodstock graduated from high school when her mother sadly also passed away. Undaunted, her pioneering spirit led her to subsequently land a job that specifically advertised for a male clerk.
When WWII began, England, the lone western European nation able to withstand Germany's initial onslaught, was soon drawing from its extensive colonial landscape to replace desperately needed materials and personnel. Although comparatively small, the British Caribbean was honorably represented by over 10,000 volunteering to "do their part" against Nazi tyranny during WWII.
Answered the call
Collymore Woodstock answered an army recruiting ad and was among the first group of women deployed to the UK joining the Auxiliary Territorial Service (ATS).
On arrival she was, to her dismay, assigned as a typist. One of her early dispatches therefore, was a letter to the War Office informing them that she had not come all that way just to type! Sensing the opportunity to be of greater service, she asked to join the anti-aircraft service as a radar operator[1]https://www.forces.net/heritage/history/remarkable-life-british-armys-oldest-surviving-female-veteran.
"We all knew we were doing things for the first time. I wanted to do my part and help show what women could achieve, despite there being no female role models at senior levels of society at the time."
She was assessed and reassigned as one of the first women to join the Anti-Aircraft Service. From 1943 to 1946, in both the UK and Belgium, Collymore Woodstock served as the first West Indian radar operator.
The ATS was the first all-female British Army regiment, which Her Majesty The Queen joined in 1945 and trained to drive and maintain a range of vehicles. Ena had a brush with royalty in 1943 when she met The Princess Royal at the Colonial Office, created to deal with the colonies of the British Empire.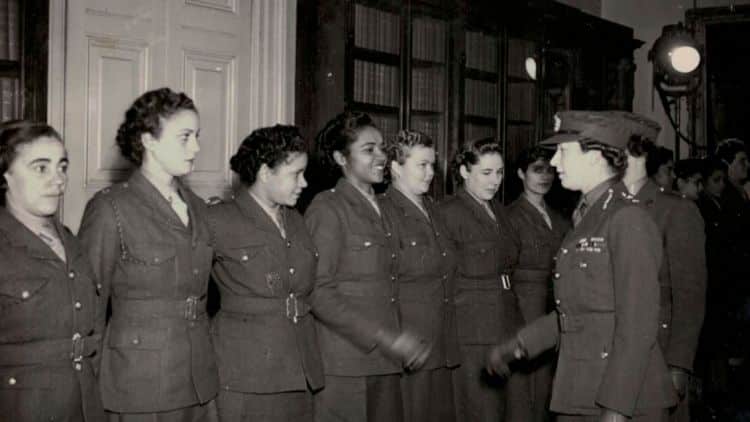 Many firsts
After WWII Collymore Woodstock embarked on a legal career of many firsts:
1946 – First woman of color to train at Gray's Inn in London and the first – and only – female to join its debating society.
1948 – First female clerk for St James' Parish court after being called to the British Bar.
1953 – First assistant crown solicitor and Jamaica's first woman to hold judicial office, appointed as a resident magistrate in the years following.
Post-retirement, she served in various legal positions including as Registrar of Companies, acting Attorney General and magistrate for the Turks and Caicos and Anguilla. For her contributions to the development of Jamaica, she was honored as a member of the Order of the British Empire and Jamaica's Order of Distinction.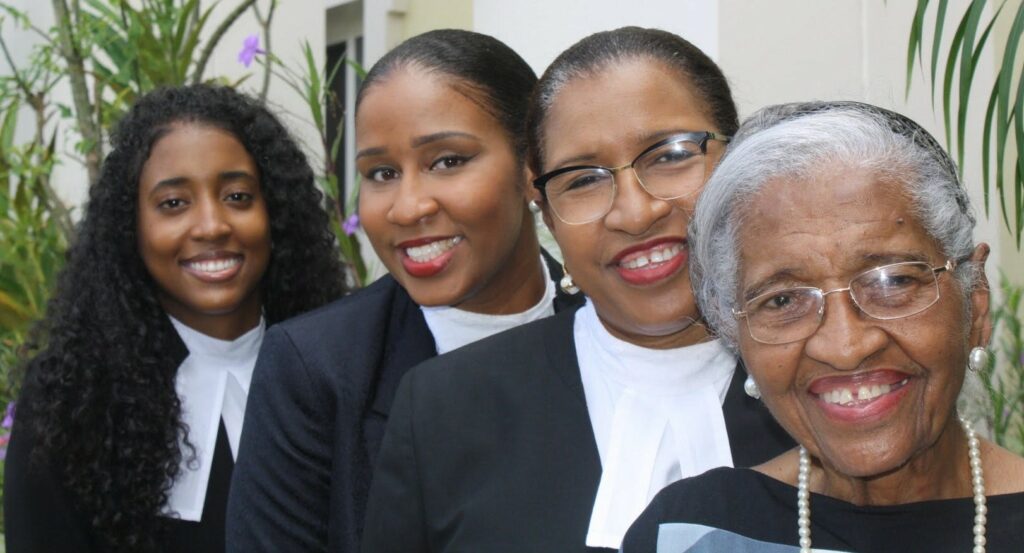 Her daughter, Marguerite Woodstock Riley, followed in her mother's legal footsteps, operating from her law firm, Woodstock Riley attorneys at law in Barbados. https://woodstockriley.com/attorneys/. Collymore Woodstock's legal legacy has transcended into the third generation as 3 of her 4 grandchildren, Amanda Riley-Jordan, Raisa St. Clare and Spencer Robert are attorneys.
"Only as adults have we begun to understand the enormity of our mother's achievements and the inspiring effect she had on us. Not surprisingly, her determination, strength and pioneering attitude enabled her to succeed whilst serving in the British Army, and then in the legal profession. We're incredibly proud of her, and hope she'll continue to inspire generations of women to come."
Marguerite's hope is demonstrably manifest through her own daughter and niece, who have continued Collymore Woodstock's proud legal legacy into the family's third generation of females.
WRAC Vice President Alison Brown remarked of Collymore Woodstock, now believed to be the oldest surviving female veteran of the British Army.
We wanted to thank her, tell her story and reflect on her achievements, plus, those of other pioneering women of WW2, who pushed aside gender bias and spearheaded roles for women in society as a whole.

Alison Brown, WRAC Vice President
Intercept and diversion
I was literally preparing to send the logbook off to Japan when I read the WRAC article on Collymore Woodstock. That led to a slight diversion down to Barbados from Maine – thanks to Nikolai Mongroo – one of many Project facilitators. By happy coincidence, Sir Tom Moore who rose over £32M by walking 100 lengths of his garden in 2020, was visiting Barbados and was invited to tea with Collymore Woodstock. Unfortunately Moore did not sign but we are delighted to have additional representation from Caribbean veteran Elder Bishop who was also in attendance. Collymore Woodstock graciously signed the logbook adding the awesome gravitas of her stoic legacy, not only as a WWII veteran serving on the front lines but also as a regional legal icon of the Caribbean.

The Log Book's presentation to Collymore Woodstock was made through her daughter, Marguerite Woodstock Riley and I remain indebted to this wonderful inspiring family for their generosity and kindness.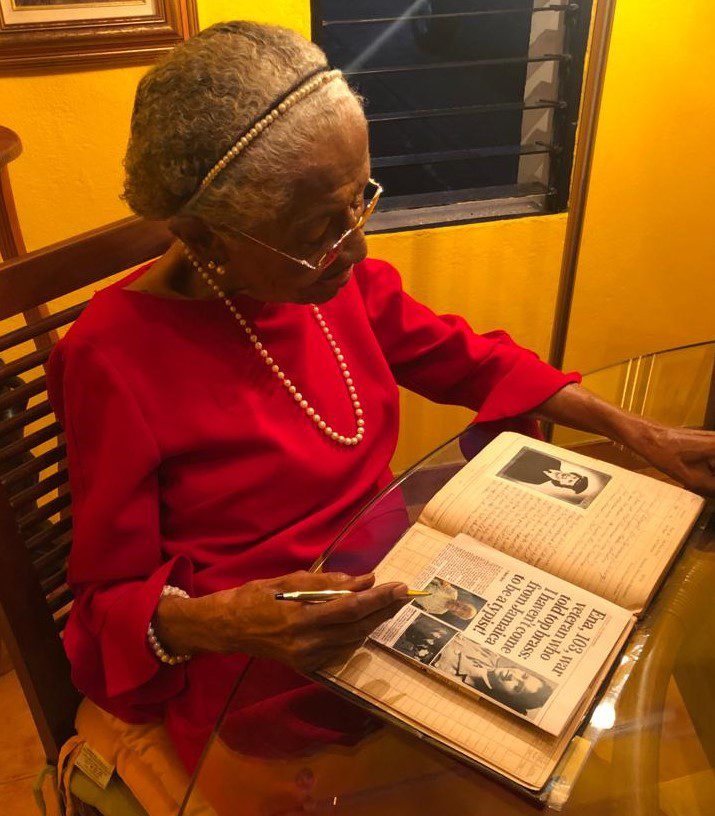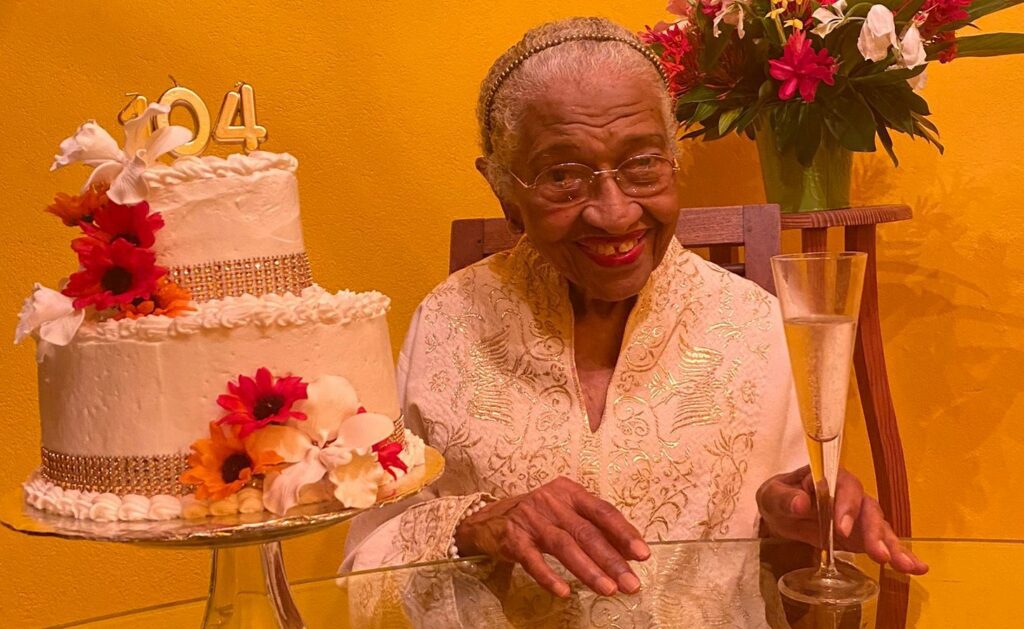 Parts of the above write-up is based on an article published on Forces Network.
Last Updated on 10 September 2023 by Nick Devaux