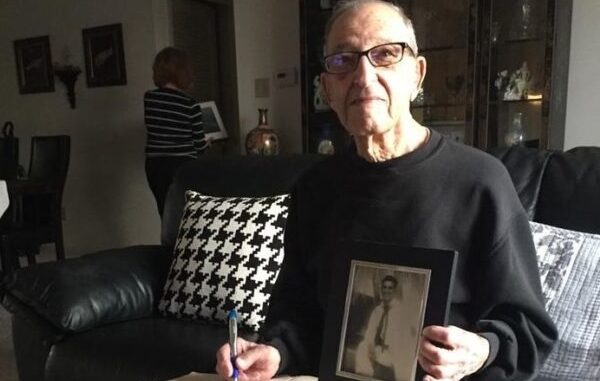 Vito V Alongi had a ringside seat to witness the Japanese surrender aboard the USS Missouri (BB-63) in Tokyo Bay on 2 September 1945. Standing one of the massive turrets he saw the Japanese delegation sign the Japanese Instrument of Surrender.
I was on top of a gun turret looking down at the ceremony as it progressed with all the generals and admirals. It only lasted about a half hour. The Japanese were very courteous and respectful. Some of them had on top hats and some had on uniforms."

Alongi recalling the momentous occasion.
Incredibly Mr Alongi is clearly visible between the 06:10 and 06:17 mark in below film.
Momentous capture
We invited Mr Alongi to sign on the same page as USS Arizona (BB-39) survivor Mr Donald Stratton. These two signatures on this one page capture something of America's exact entry into and exit from WWII. The USS Missouri (BB-63) and the USS Arizona (BB-39) together frame the hallowed ground of the Pearl Harbor memorial.
Ms Christina Lapsley, Manager of Volunteer Services at Mount St. Mary's Hospital, where Alongi volunteers, forwarded my initial request to him. I was floored receiving a phone call from the gentleman saying he'd like to sign. This is the first and only occurrence in over 100 signatures. My friend Kent McDonald delivered The Log Book from across the border in Niagara Falls, Canada.
Witness(es) to surrender
We are deeply honored to have Mr Alongi's signature in The Log Book, it provides a direct link to the end of hostilities in WWII. At the time of his signature we had no idea that the signature of Louis Graziano laid ahead. Mr Graziano was present at the German unconditional surrender witnessing this historic event. The symbolic value of these two signatures cannot be understated.
Sadly Vito V. Alongi passed away 1 December 2020 at Mt St Mary's Hospital. Rest in peace Sir and thank you for allowing us to carry your story.
Last Updated on 30 March 2021 by Lars McKie